markets
Loonie Rises to 80 U.S. Cents as Canada Booms
By
Canadian currency is the best performer among majors since May

Investors bet the Bank of Canada will raise rates again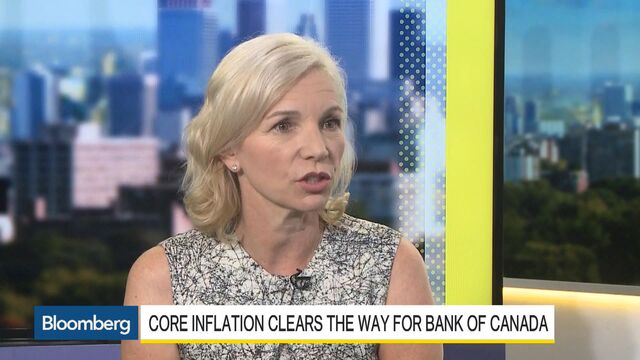 The Canadian dollar strengthened to 80 U.S. cents for the first time in more than a year amid mounting evidence the economy is gathering speed and expectations the central bank will continue tightening monetary policy.
The loonie has advanced almost 10 percent from a 16-month low on May 4, making it the best-performing major currency tracked by Bloomberg over that period. The Bank of Canada raised borrowing costs for the first time in seven years on July 12, taking its main rate 25 basis points higher to 0.75 percent.

"Robust fundamentals along with a central bank that's not exactly rowing back expectations of rate hikes to come are the two key culprits here," said Bipan Rai, Toronto-based senior foreign-exchange and macro strategist at Canadian Imperial Bank of Commerce.
The loonie strengthened 0.2 percent to 79.91 U.S. cents at 12:49 p.m. in Toronto after touching 80.10 cents earlier, its highest intraday since May 2016. It traded at C$1.2515 per U.S. dollar.
More Hikes
There's a 79 percent probability that policy makers led by Governor Stephen Poloz will increase rates again this year, according to overnight index swaps data compiled by Bloomberg.
Wholesale sales rose more than expected in May, according to data released on Monday, adding to higher-than-forecast growth in retail and manufacturing sales, as well as a surge in new jobs that capped the best quarter since 2010.
Canada will lead Group of Seven countries in growth this year, expanding at a 2.5 percent rate, up 0.6 percentage points from its April forecast, the International Monetary Fund said in a quarterly update to its World Economic Outlook. However, the fund cut its projection for Canadian growth next year to 1.9 percent, down 0.1 point.
Bets Reversed
Hedge funds and other speculators flipped their wagers on the loonie to net long less than two months after amassing record short positions against the currency, according to Commodity Futures Trading Commission data released July 21.
The market may be at a point where a lot of good news is priced into the Canadian dollar already, according to Shaun Osborne, chief foreign-exchange strategist in Toronto at Bank of Nova Scotia.
"We might still be able to test C$1.24, but the Bank of Canada rate of 1 percent is more or less fully priced and markets are perhaps a little too complacent on the Fed," Osborne said. "It's hard to imagine the Bank of Canada charging ahead with more rate hikes in 2017 if the Fed does not deliver on the tightening in December."
The U.S. Federal Open Market Committee meets July 25-26 in Washington. Economists surveyed by Bloomberg expect the central bank to announce the timing of its balance sheet unwinding in September and raise rates in December.
Before it's here, it's on the Bloomberg Terminal.
LEARN MORE