Five Things You Need to Know to Start Your Day
Get caught up on what's moving markets in Asia.
By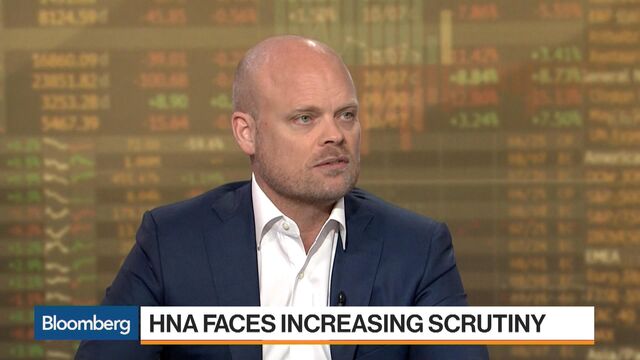 Want to receive this post in your inbox every morning? Sign up here.
HNA Group's financiers grow cautious, crude gets lift from U.S. and OPEC, and another all-time high for the Nasdaq. Here are some of the things people in markets are talking about.
Gray Rhino Caged?
A number of Chinese banks that helped finance HNA Group's global M&A binge are reportedly pulling back from the conglomerate. This "gray rhino," whose debt-fueled empire includes sizable stakes in Chinese, U.S., European, and Australian publicly traded companies, may constitute a risk to Chinese financial stability. The news comes amid a separate Wall Street Journal report that Chinese President Xi Jinping has approved a curtailment of overseas investment by large domestic companies. Navid Mahmoodzadegan, co-president of investment bank Moelis & Co., highlighted that cross-border activity involving Chinese companies has "certainly slowed down" amid the imposition of capital controls.
Crude Advance
West Texas Intermediate futures gained 1.4 percent to break above $46 per barrel on Monday thanks to a one-two punch from the U.S. and from OPEC's biggest producer. Halliburton's cautious outlook on activity in the U.S. shale patch and Saudi Arabia's curtailed exports to the world's largest economy were cited as chief contributors to the rally. Saudi Oil Minister Khalid Al-Falih said he would admonish nations that aren't making good on their commitment to curb production as major producers meet in Russia to discuss the status of their deal. Data released on Friday showed speculative bets on higher oil swelling while shorts sank for the third straight week.
Tech Stands Out
The Nasdaq Composite Index closed at a record high to kick off the week, while broader U.S. equity gauges retreated. The CBOE Volatility Index, better known as the VIX, closed below 10; 10-year Treasury yields and the Bloomberg Dollar Spot Index edged higher. It's a busy week for U.S. earnings. Alphabet Inc., the parent company of Google, reported second-quarter revenue that failed to live up to analysts' expectations, sending shares lower in the after-hours session.
Repeal? Replace? Erase?
U.S. President Donald Trump told Senate Republicans to begin the process of repealing the Affordable Care Act on Tuesday, but the party's leadership is still undecided on what proposal they'll put forward for consideration. Separate plans, to repeal and replace Obamacare or just repeal it, both may lack the support to pass the upper chamber due to discord in the Republican Party.  Earlier in the day, the president told a reporter asking about health care to be "quiet." Texas lawmaker Blake Farenthold, for his part, blamed female senators for the failure to overturn the ACA.
Futures Up
Nikkei 225 and S&P/ASX 200 futures are trading higher ahead of the open. The MSCI Asia Pacific Index was little changed Monday as weakness in energy companies offset strength in tech firms. There's a dearth of economic data for the region due out Tuesday; for what it's worth, New Zealand's June trade surplus is expected to swell to 150 million kiwis.
What we've been reading
This is what caught our eye over the last 24 hours.
Before it's here, it's on the Bloomberg Terminal.
LEARN MORE