politics
China Confirms Probe of Former Rising Star in Communist Party
Bloomberg News
Official Xinhua News Agency confirms probe of Sun Zhengcai

Ex-Chongqing Party chief probed for disciplinary violations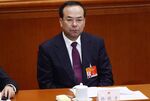 China's official Xinhua News Agency confirmed on Monday that Sun Zhengcai, the former Communist Party chief of Chongqing city, is under investigation for serious disciplinary violations.
The brief announcement followed news reports a little over a week ago that Sun, 53, was being probed. As the youngest member of the party's 25-member Politburo, Sun was considered a rising star ahead of a leadership shuffle later this year. His age and rank had positioned him a candidate for the Politburo's smaller Standing Committee, China's top-decision making body, which could have set him up for a top leadership post after 2022.
Of the Standing Committee's seven current members, only President Xi Jinping and Premier Li Keqiang are expected to stay on based on recent retirement conventions, with as many as five new members added at the 19th party congress set for the final quarter of this year. Sun's probe underscores Xi's commanding position ahead of that conclave, which will set the tone for his second five-year term as president, analysts have said.
The first sign of Sun's downfall came earlier this month when state media reported that Chen Miner, a provincial party chief who is an associate of Xi, had replaced him as the most-senior leader in the western municipality of Chongqing. Reports soon followed that Sun had been placed under investigation.
Click here to read more about Sun's downfall
Prior to being named Chongqing's party chief in 2012, Sun had served as China's agriculture minister and also the party secretary of Jilin province.
The ousting of another former Chongqing chief, Bo Xilai, jolted the last party shuffle in 2012. Bo, who was touted at the time as a potential future leader, is now serving a life sentence in prison for graft and abuse of power.
— With assistance by Daniel Ten Kate, and Miao Han
(
Adds biographical details about Sun in fifth paragraph.
)
Before it's here, it's on the Bloomberg Terminal.
LEARN MORE