Banxico Should Leave Door Open to Rate Hike, Former Deputy Says
By
Inflation won't likely reach CPI target in 2018, Sanchez says

Peso level a bit too optimistic, former board member says
Mexico's central bank should have clearly left the door open for interest rate hikes in its monetary policy decision last month as inflation probably won't slow to the target next year, according to Manuel Sanchez, who stepped down from the board at the end of his term in December.
Sanchez, seen by many analysts as the board's most hawkish member before he left, said inflation's persistence may rule out rate cuts next year. He added that the peso's level is a bit too optimistic and under some circumstance could surrender some of the gains accumulated since hitting a record low in January.
"My impression is we have moved all the way to optimism and we have to be very careful," Sanchez said in an interview Friday. "Just a few months ago, exactly the opposite was happening."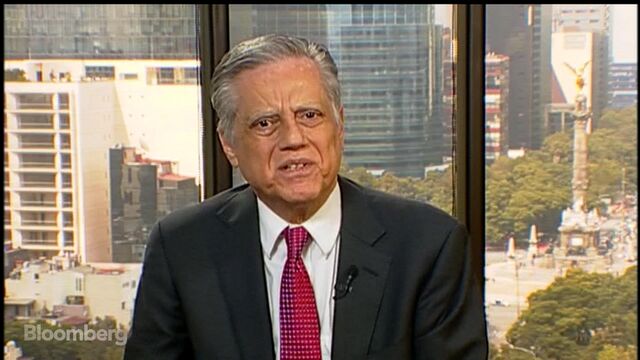 Led by Governor Agustin Carstens, the central bank raised borrowing costs on June 22 for the seventh time in a row, while signaling a pause in the rate hiking cycle and forecasting inflation would reach the 3 percent target by the end of 2018. In the minutes of that meeting, some policy makers stressed their concern about inflation, causing traders to pare bets that borrowing costs would begin to drop next year.
Sanchez takes his argument further by saying not only might rate cuts not be possible next year, but future rate hikes should still be considered. "I'd be a little clearer as to leaving the door open, because of the uncertainty, because we don't know what may happen," he said. "I would say it's perhaps a little too premature to say 'that's it."'

The central bank said last month's decision to raise the rate to 7 percent left borrowing costs at a level consistent with reaching the inflation target. Carstens told Bloomberg after the decision that the rate pause could even withstand a U.S. Federal Reserve rate increase, but that talk about rate cuts was premature. He told Reuters last week that it's too soon to discuss reducing borrowing costs in the first six to nine months of 2018.
Before it's here, it's on the Bloomberg Terminal.
LEARN MORE