Abe Denies Cronyism Allegations as Support Continues to Fall
By and
Japanese prime minister faces two-day grilling in parliament

Approval tumbles in three new polls amid growing distrust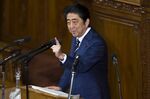 Japanese Prime Minister Shinzo Abe sought to stem a slide in his popularity in a special parliamentary hearing Monday, reiterating his denials of cronyism, apologizing for disparaging remarks about opponents and vowing to focus on the economy.
Approval for Abe's cabinet slumped again in three media polls conducted over the weekend. His support was at 26 percent, the lowest since he took office in 2012, in a poll conducted by the Mainichi newspaper, while disapproval was more than twice as high at 56 percent. Separate surveys by the Nikkei newspaper and FNN put support at 39 percent and 35 percent respectively.
Abe and his aides are facing two days of questioning over why one of his close friends received government backing to open the country's first veterinary college in decades. He is set to reshuffle his cabinet early next month in a bid to claw back enough support to stay in his job at least until a party leadership election due in September 2018.
"There is a saying that one should never allow room for doubts," Abe told parliament. "Since this is a matter involving a friend of mine, it is understandable that the people would look at it with suspicion." But he added he had no intention of canceling the project.
Wine Glasses
One opposition lawmaker produced a large print of a photograph showing Abe and Kotaro Kake, whose foundation is set to open the veterinary college, holding up wine glasses to the camera. Abe said the two had been friends since they were students and sometimes treated one another to meals, but he denied that Kake had ever asked him for favors based on his political position and said he had never personally issued instructions on the project.
Read here about why Abe is falling in the polls
While support for the main opposition Democratic Party has faded into the low single figures, Abe faces potential rivals within his own LDP, raising questions over how long the government will continue with its economic program of unprecedented monetary easing, deregulation and limited attempts to restore fiscal health.
"To restore the trust of the people, I think I must press ahead with my work with care and sincerity and achieve results," Abe said. "The economy has been the administration's top priority and it's our job to create employment and raise wages," he added.
More than 60 percent of respondents to the Mainichi poll said Abe shouldn't serve a third term as party leader. Only months ago, Abe appeared to be within reach of becoming the country's longest-ever serving prime minister. The long-dominant party changed its rules in March to allow him to serve a third consecutive term as party president, which could have taken him through to 2021.
Abe Apology
The fact that no general election needs to be held until the end of 2018 will probably help Abe keep his job for the time being, according to Tomoaki Iwai, a politics professor at Nihon University in Tokyo.
"His support rate is low, but he will stay on," said Iwai. "If there was an election scheduled in the near future, they would try to replace him before that, but they don't need to hold one for quite a while."
Abe apologized Monday for lashing out at jeering opponents during a stump speech ahead of the July 2 Tokyo assembly election, in which his ruling party went on to suffer an historic defeat. In a fresh blow, an LDP-supported candidate lost to a rival backed by opposition parties in Sunday's election for mayor of the northern city of Sendai.
Before it's here, it's on the Bloomberg Terminal.
LEARN MORE