Tokyo Tests 'Telework Day' to Ease Olympic Commuting Congestion
By and
Logistics challenge for 2020 Summer Games greater than London

Government hopes flexible work plans become an Olympics legacy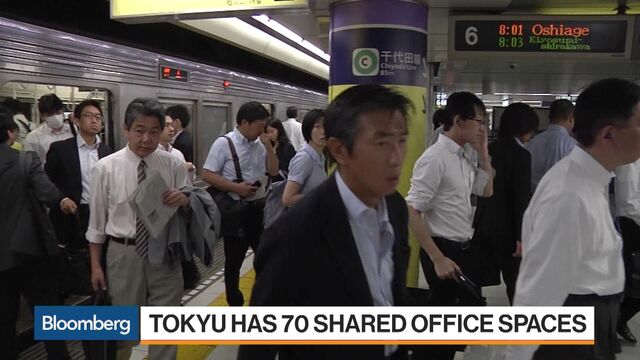 Tokyo's commuters offered mixed reviews Monday as the government launched a campaign to get more of them to work from home.
July 24 marks the first dry run of a "Telework Day" encouraging people to work remotely as the city gears up to host the 2020 Summer Olympics. Authorities are seeking ways to make room for 920,000 spectators expected to visit Tokyo each day during the games.

"There's no option but to ask regular commuters to stay at home rather than going out to work," said Azuma Taguchi, a professor at Chuo University in Tokyo. The alternative, he added, was overcrowding that could cause accidents and delays.
With Tokyo's population of close to 14 million sitting at the center of the world's largest conurbation of around 35 million people -- many of whom commute to the city center each day -- the logistical challenge of moving everyone around will exceed that faced by London games organizers in 2012.
More than 750 companies and organizations were expected to take part in Monday's practice run, according to the Telework Day website. NTT Data Corp., for example, expected 7,600 of its staff to avoid commuting in the peak 8 a.m-10 a.m. period.
The Ministry of Internal Affairs said it would take about a month to collect data on how many people took part in what is set to be an annual event. Meanwhile, Twitter users were divided over the results, with some saying trains were less crowded than usual and others saying they noticed no difference.
Taguchi, who has developed a simulator for transport use in the city during the Olympics, said at least 20 percent of commuters would need to take part in Telework Day for it to be effective.
More Leisure
Apart from relieving congestion during the games, the government hopes that it will result in more flexible work practices.
Prime Minister Shinzo Abe has spoken out in favor of changing the way the Japanese work, allowing people more time for family and leisure pursuits that could also bolster consumer spending.
"I think there may still be some reluctance among traditional Japanese companies who think it doesn't fit their type of work," said Jiro Akama, vice minister of internal affairs, in an interview last week. "But we want them to give telework a try."
Shared Offices
Seeking to cater to those who can't work from home, railway company Tokyu Corp. has opened a network of 70 shared office spaces. The company says demand is rising by 10 percent a year.
Customer Haruyuki Asada, 51, has been commuting almost two hours each way to his central Tokyo office for three decades.
Now, when he has an afternoon meeting between the two, Asada spends the remainder of the day working at a desk in a shared office nearby, rather than returning to headquarters. He then heads straight home, avoiding overcrowded trains.
"I'm able to sit down and read on the train," Asada said in an interview last week. "I sometimes get home while it's still light."

While Tokyo's "commuter hell" has eased since the days of window panes cracking under the strain of bodies packed into the carriages in the 1960s and 1970s, it's still not unusual to have to queue to reach the station platform on some lines during rush hour.
Tokyo Governor Yuriko Koike has been promoting a separate plan dubbed "time lag" commuting this month. Employers are being encouraged to introduce flexible working to allow travel outside peak times, and prizes will be awarded to those companies found to have introduced the best practices.
Crowd Forecasts
Games organizers in London promoted working from home as part of a plan that also involved providing detailed forecasts on exactly where and when crowds could be expected during the 2012 Olympics and Paralympics, said Stuart Reid, travel demand management program director for London.
"Although there were record numbers of passengers, there were quite a lot of comments that it felt quieter than normal, because patterns of usage changed quite significantly," he said. Seventy percent of Londoners made changes to their travel during the period, he added.
"The level of behavior change that was required is possible," Reid said. "There was a lot of skepticism prior to 2012. We demonstrated that it can be done."
Quotes from this Article
Before it's here, it's on the Bloomberg Terminal.
LEARN MORE