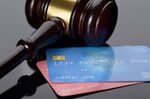 When consumers sign up for a new credit card or checking account, often buried in the fine print of the contract is an arbitration clause. Invented by corporate lawyers, it typically requires consumers to resolve disputes privately through arbitration, not the courts, and bars them from joining together in so-called class-action lawsuits when they feel they've been wronged. Over the last decade, these clauses have seeped into millions of financial contracts, according to the Consumer Financial Protection Bureau. The bureau found the clauses were harmful to consumers and on July 10 issued a regulation restricting their use. It's not clear how long the rule -- reviled by banks and other financial companies, yet loved by consumer advocates -- will stick under President Donald Trump and a Republican-controlled Congress, who hold the consumer bureau in low esteem.
1. Why do financial firms use mandatory arbitration?
They believe it avoids costly, unnecessary lawsuits. Banks and other financial companies say arbitration is faster and cheaper for the public than litigation, and a more appropriate venue than courts to resolve disputes over issues that frequently don't involve huge sums of money for individual consumers. The finance industry also says that much of the damages won through lawsuits just go to trial lawyers. And companies argue that litigation isn't needed when regulators are empowered to fine firms for conduct that hurts large groups of consumers.
2. Why do consumer groups hate it?
Consumer advocates say mandatory arbitration prevents consumers from getting their day in court and lets banks and other companies cheat customers without being held accountable. A common complaint: Not only do banks avoid big jury awards, but allowing them to pay a small amount in private to resolve grievances means lenders have no incentive to change their bad behavior. Consumer advocates point to the Wells Fargo & Co. bogus account scandal in 2016, when bank employees opened millions of deposit and credit-card accounts in customers' names without their permission. When victims tried to sue, arbitration clauses in legitimately opened accounts prevented them from joining together to challenge Wells Fargo. The bank, however, settled lawsuits over the fake accounts for $142 million.
3. How does arbitration work, anyway?
Let's say a consumer believes her bank charged a fee she thinks is unfair. Instead of suing the bank and arguing her case in court, she is referred to an individual or panel appointed to resolve the issue behind closed doors. The bank-drafted contract between the lender and the consumer often specifies who gets to choose the arbitrator, according to the CFPB. Usually only the parties involved are privy to the decision, and the process of reaching a resolution can go faster than litigation.
4. What would the rule actually achieve?
It doesn't block arbitration outright but prohibits banks and other financial companies from including clauses that block class actions. Banks will have to alter their contracts with consumers by March 2018, unless the rule is overturned or delayed.
5. Can it be stopped?
It's possible. Republicans in Congress, led by Senate Banking Committee Chairman Mike Crapo and House Financial Services Chairman Jeb Hensarling, have started the process of using an obscure law called the Congressional Review Act to halt the rule. Under the act, lawmakers have 60 legislative days to overturn the bureau's decision. If successful, the consumer bureau will be prohibited from taking up arbitration regulation again. Separately, the acting comptroller of the currency, Keith Noreika, has taken steps to delay the rule through a petition to the Financial Stability Oversight Council -- a panel of regulators led by the Treasury secretary -- which can set aside a rule if there's evidence it puts the financial system's overall safety at risk. It's also likely that industry groups will sue to overturn the rule. 
6. Is this regulatory overreach -- or needed reform?
The consumer agency points out that the 2010 Dodd-Frank financial reform law directed it to study the issue. Republicans in Congress and the U.S. Chamber of Commerce, among other industry groups, say the agency is overstepping its authority and that its study is flawed. The issue gets to the heart of a decades-long U.S. debate, in which businesses complain that the U.S. is an overly litigious country and consumer groups insist that the threat of a big legal settlement is the best way to protect consumers from abuses.
The Reference Shelf
Before it's here, it's on the Bloomberg Terminal.
LEARN MORE