What Is a 'Bona Fide' Tie Under Trump's Travel Ban?
By and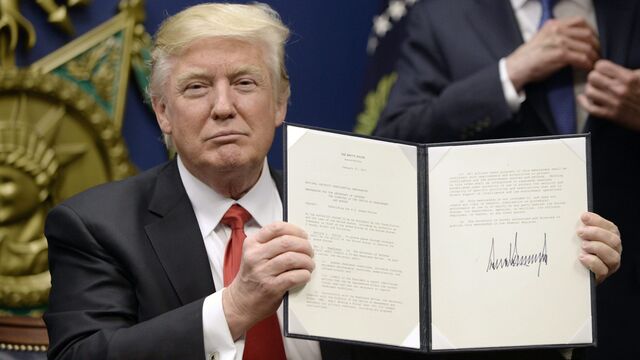 President Donald Trump scored a partial win when the U.S. Supreme Court approved implementation of a narrowed version of his travel ban on refugees for 120 days and nationals from six Muslim-majority countries for 90 days. The Supreme Court says it will hear arguments on the ban, which was blocked by lower courts, as soon as October. In the meantime, it allowed the administration to enforce the prohibition against foreigners who lack a "bona fide" relationship with the U.S. The high court on July 19 let stand a lower-court order allowing grandparents and other relatives of U.S. residents into the country, while effectively upholding current restrictions on many refugees.
1. What's a 'bona fide' relationship with the U.S.?
According to the Supreme Court's June 26 order, such relationships include having family in the country or a connection to a U.S. business or school, as long as it is "formal, documented" and not formed for the purpose of evading the president's edict. The court included admission to a university, an accepted job offer and an invitation to lecture as "bona fide" relationships.
2. What family relationships count as 'bona fide'?
According to guidance issued by the State Department, "bona fide" relationship means a parent, parent-in-law, spouse, child, sibling, son-in-law or daughter-in-law, and includes half and step relations. The government initially excluded fiances, but then changed course to allow them on June 29, the day it began implementing the policy. In the July ruling, the Supreme Court decided not to interfere with a lower-court order that said it also applies to grandparents, grandchildren, aunts, uncles, nieces, nephews, cousins, brothers-in-law and sisters-in-law. But the Supreme Court put on hold part of the lower-court's ruling that pre-existing ties with U.S.-based refugee resettlement agencies do count, potentially leaving many refugees in limbo.
3. Will there be more court challenges?
Maybe. Supreme Court Justice Clarence Thomas, in a partial dissent joined by Justices Samuel Alito and Neil Gorsuch, predicted a "flood of litigation" as everyone struggles to figure out "what exactly constitutes a bona fide relationship." The court's July 19 clarification helps. But litigation could still be triggered when a visa applicant from one of the six targeted countries -- Iran, Syria, Libya, Yemen, Sudan and Somalia -- is denied an entry permit.
4. What happens after the 90- and 120-day bans expire?
There are a few scenarios that could play out. Trump could simply extend them with another order. He could declare victory when the time is up, and say he succeeded in ensuring national security by instituting the bans while visa-entry procedures were reviewed. That review was resumed June 23. He could make the travel ban a more permanent policy by requiring the six countries to share more information about visa applicants before the order against their nationals is rescinded, likely triggering further litigation. The ultimate fate of the bans depends on what the Supreme Court says in its final ruling.
The Reference Shelf
Before it's here, it's on the Bloomberg Terminal.
LEARN MORE