U.S. Bars Travel to North Korea After Student Visitor's Death
By and
State Department cites 'serious risk' of arrest and detention

Kim's regime has used seized Americans as bargaining chips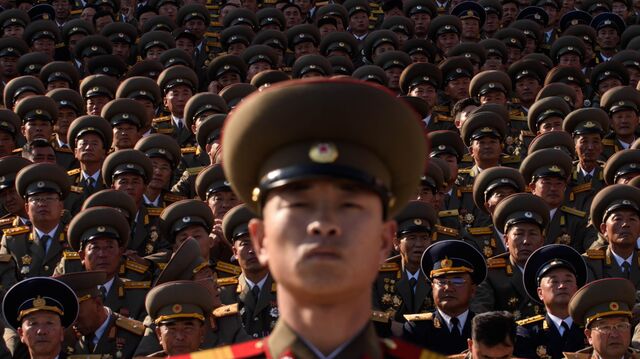 The U.S. is barring its citizens from traveling to North Korea after an American student died from injuries sustained during imprisonment in the isolated country.
"Due to mounting concerns over the serious risk of arrest and long-term detention under North Korea's system of law enforcement," Secretary of State Rex Tillerson is banning U.S. citizens from using their passports to travel there, State Department spokeswoman Heather Nauert said in a statement.
The move comes as the Trump administration seeks to increase pressure on Kim Jong Un's regime over its nuclear weapons program, and it will remove the regime's opportunities to hold American visitors as bargaining chips.
The State Department said the travel ban will take effect 30 days after it's published next week in the Federal Register. "Individuals seeking to travel to North Korea for certain limited humanitarian or other purposes may apply to the Department of State for a special validation passport," Nauert said in the statement.
Warmbier's Death
The State Department had been weighing such restrictions following the death of Otto Warmbier, the University of Virginia student who was arrested and sentenced to hard labor in 2016 after he allegedly tried to steal a propaganda poster from his hotel in the capital, Pyongyang. He was released back to the U.S. after 15 months in custody, during which he suffered severe brain injuries that left him in a coma, and died soon after.
American officials had also considered the travel ban as part of broader efforts to exert pressure on the regime over its continued development of nuclear weapons and ballistic missiles in violation of United Nations sanctions. Tillerson has made the North Korea issue a priority since becoming secretary of state, and has called on China and other nations to do more to choke off its economy.
Read More: Here Are the Options for Dealing With North Korea
Tillerson used his authority to invoke "Geographical Travel Restrictions" in cases of armed hostilities or if he deems Americans would face imminent danger by traveling to a country. The U.S. has imposed such measures in the past in Iran, Iraq, Libya and Cuba, but no such restrictions are currently in place.
The State Department doesn't keep track of the exact number of Americans who travel to North Korea each year, but the number is believed to hover at about 1,000. They are usually accompanied by North Korean minders and can only visit destinations approved by the government.
The ban will supersede a travel advisory last updated on May 9 that "strongly warns" U.S. citizens against travel to North Korea. That advisory said at least 16 American citizens have been detained there in the last 10 years and cautions that North Korea imposes "unduly harsh sentences for actions that would not be considered crimes" in the U.S.
Three Held
Three Americans are currently in the custody of the North Korean government, which has periodically used detained U.S. nationals as leverage to extract concessions from Washington. Those arrested have included evangelical Christians, whom North Korea's government regards as a serious threat to its atheist state.
Warmbier's death brought home the threat posed by North Korea to average citizens more than dozens of ballistic missile and nuclear tests. President Donald Trump denounced the death of 22-year-old, saying he suffered at the hands of a "brutal regime."
Only a handful of tour companies have North Korea's permission to arrange trips there. Warmbier traveled with Young Pioneer Tours, whose motto is "budget travel to destinations your mother would rather you stayed away from," and also arranges trips to Iran, Eritrea, Ukraine's Chernobyl and Afghanistan.
Young Pioneer stopped accepting American travelers on its tours of North Korea after Warmbier's death because it considered the risk "too high." The company said in a statement that it has been informed of the travel ban by the U.S. government.
Koryo Tours, another company that offers tours to North Korea, said the Swedish embassy in Pyongyang informed it of the ban. The mission acts a "protecting power" and an intermediary between North Korea and the U.S., which have no official relations.
North Korea denied torturing Warmbier, calling his death a mystery. The state-run Korean Central News Agency said the country provided him "medical treatments and care with all sincerity on humanitarian basis."
Before it's here, it's on the Bloomberg Terminal.
LEARN MORE