Perks for American CEOs Aren't What They Used to Be
By and
Aetna spent $602,781 on Mark Bertolini's personal air travel

Vornado's Steven Roth incurred $272,290 tab for car and driver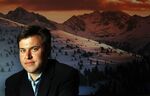 Gone are the days when Tyco International ponied up millions of dollars to indulge its executives' lavish lifestyles, including Dennis Kozlowski's $15,000 dog umbrella stand. But U.S. public companies still give bosses some tasty tidbits with their multimillion-dollar pay packages.
Vail Resorts Inc. spent as much as $11,220 on ski lessons and lodging at company-owned facilities for Chief Executive Officer Rob Katz, and fashion retailer Nordstrom Inc. contributed $33,246 in merchandise discounts for co-President Blake Nordstrom. Domino's Pizza Inc. awarded CEO Patrick Doyle $11.1 million last year, topping it off with $224 for pizza, according to a Bloomberg Pay Index analysis of proxy filings.

"It begs the age-old question: You make X amount of money and you can't afford this on your own?" said John Trentacoste, a partner at Farient Advisors, a compensation consulting firm. "But certain perks can give the executive peace of mind and allow him or her to focus on the company rather than other things that pop up in life. That's the rationale."
Boards defend perks as a way to help bosses concentrate on their jobs, and to encourage them to stay in their jobs. Most large U.S. companies, such as health insurer Aetna Inc., require that CEOs use corporate jets for personal trips, arguing that avoiding delays and ensuring the person's security outweigh the costs. Some businesses provide CEOs with cars and drivers for similar reasons.
Of the 200 highest-paid executives at publicly traded U.S. companies, Aetna's Mark Bertolini incurred the largest air-travel expense last year with $602,781. Vornado Realty Trust spent the most on a car and driver -- $272,290 for CEO Steven Roth.
Those costs are scrutinized by shareholders, who have become more attentive to excessive spending since investor votes on compensation for top managers, known as "say on pay," were introduced in 2011. As a result, many companies have dialed back on perks for corporate executives, a group that's viewed favorably by just 31 percent of respondents in a recent Bloomberg National Poll.
Read also: Wall Street efforts to improve image fail to sway Americans

Country-club memberships, an oft-derided perk, are still common in the oil-and-gas industry. They can help executives build ties in the community and, perhaps, encourage them to move to rural Texas or Oklahoma, far from urban centers. Some companies consider club memberships essential tools to help executives keep clients and woo new ones, yet still disclose them as perquisites.
The perks come with a cost for executives. All benefits that don't directly relate to the person's job and aren't offered broadly to employees are considered taxable income and must be disclosed in regulatory filings as "All Other Compensation." Of course, some companies pay for the tax bill, too. Relocation expenses, which can include private-school tuition for children, also wind up in this category.

Defining what's related to someone's job can be tricky. The U.S. Securities and Exchange Commission rebuked Facebook Inc. in 2015 for not disclosing the cost of CEO Mark Zuckerberg's personal-security program, which the company deemed to be directly related to his job. The firm spent $4.89 million last year on keeping Zuckerberg safe, the most among S&P 500 companies, and $2.61 million on security for Chief Operating Officer Sheryl Sandberg.
Intel Corp. CEO Brian Krzanich was close behind with a 2016 security tab of $2.13 million, up from $39,600 a year earlier. The chipmaker bolstered the program after some senior executives received threats following an announcement that the company would focus on making its workforce more diverse.
Perks sometimes are lumped in with other items such as accrued dividends that can't be disclosed any other way because of SEC reporting rules. Among the country's 200 top-paid executives, Gamco Investors Inc.'s Mario Gabelli had the highest aggregate "other compensation" at $76 million, split between incentive-management fees and other variable pay. Viacom Inc. disclosed $58.4 million for ex-CEO Philippe Dauman, mostly consisting of a separation payment following his departure.
Before it's here, it's on the Bloomberg Terminal.
LEARN MORE