Shkreli Has Days to Decide Whether to Take Stand at Trial
By and
U.S. prosecutors are expected to rest fraud case next week

Will defense want to emphasize Shkreli's eccentricity?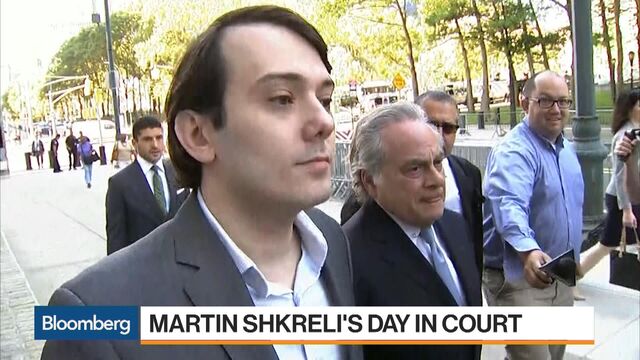 Martin Shkreli has just days to decide whether to testify in his own defense at his fraud trial.
Following an abbreviated day on Friday, prosecutors are expected to rest their case against the Retrophin Inc. founder by the middle of next week. At that point, Shkreli and his lawyers must make a choice that could prove to be the trial's most compelling turning point: Will he take the risk that his eccentric personality may alienate jurors as he tries to offer an innocent explanation for his actions?

"If Shkreli takes the stand, it would be a massive gamble -- and quite possibly a game-ending strategic blunder," said James Goodnow, an attorney at Fennemore Craig who is not involved in the case. "All it would take is one sarcastic eye roll, one snooty comment, and that's it -- he will have lost the jurors and his chances for acquittal."
Shkreli isn't required to testify and his lawyer, Benjamin Brafman, has been silent on whether his client will take the witness stand. John McCabe, a senior consultant with Decision Analysis Inc., a trial advisory firm in Los Angeles who isn't involved in the case, said it would be a risky move for Shkreli to do so.
On the one hand, McCabe said, Shkreli might wind up implicating himself or turning jurors against him with his words or tone. On the other, Brafman may want to use Shkreli's testimony to play up his client's quirks, which has been a key part of the defense. The defense has argued that Shkreli's investors made millions of dollars from his investments and knew he was odd.
Shkreli Called Liar by Prosecutors; Weird Genius by His Lawyer
"He could provide information that other witnesses can't provide and thoroughly explain his thought process around his actions and the allegations, if he can do it with a certain amount of humility," McCabe said of a defendant who has publicly lashed out at the media during his trial. "He doesn't seem like the sort of person who could do that."
Should Shkreli testify, he will also open himself to hostile questioning from prosecutors, who may use his own comments -- on Twitter and in a 2015 meeting he had with the government -- to cross-examine him. He's kept a regular presence on social media since testimony got underway.
Shkreli Made Big-Money Brag to FBI and Now Faces His Reckoning
"If he comes across as even mildly moral or even a few degrees short of the boy next door type, there might be a kind of 'exceeding expectations' phenomenon simply because he's less demonic than people thought," Robert C. Hockett, a professor at Cornell Law School in Ithaca, New York, said.
Shkreli, 34, is accused of operating Retrophin and his hedge funds as Ponzi schemes. Prosecutors say after the funds imploded in 2011, Shkreli took fund investors' money without their permission to start Retrophin, and later used $11 million from the drug company without shareholder approval to repay the funds' investors. He faces as long as 20 years in prison if convicted.
The only witness on Friday was Amy Merrill, a representative of Standard Registrar, which served as Retrophin's transfer agent from 2012, when it went public, until late 2014. Under questioning by prosecutors, Merrill reviewed records that detailed how Shkreli had allocated shares of Retrophin to investors in his hedge funds.
Prosecutors this week sought to show jurors documents that included what they said were sham Retrophin consulting agreements designed to repay investors who had lost money in Shkreli's ventures. The defense objected to the move, saying prosecutors should be required to call the investors to the witness stand before introducing the agreements.
Oil Trader
One of those investors was Alan Geller, a retired oil trader. Brafman indicated in court papers that the defense would welcome Geller's testimony, saying he provided real consulting services by serving as Shkreli's "life coach" and made millions of dollars from his investments with Shkreli.
Jurors have heard from Geller's brother, David, who invested in MSMB Healthcare, a Shkreli fund. He testified that he wanted to pull his $200,000 investment from the fund when he received a letter in October 2011 notifying him that Shkreli was "changing the objective of the fund" to focus on private illiquid investments.
David Geller, 54, immediately asked for his cash but Shkreli persuaded him to stay in the fund, saying the investments were "going to be a very small part of the fund." A month later, he learned via email that he had received 30,000 shares of Retrophin as a "gift."
The case is U.S. v. Shkreli, 15-cr-0637, U.S. District Court, Eastern District of New York (Brooklyn).
Before it's here, it's on the Bloomberg Terminal.
LEARN MORE