Erdogan Lashes out at Germany as Tensions Over Trade Spiral
By and
'You aren't strong enough to scare us,' Turkish leader says

Historians says relations at lowest ebb since World War II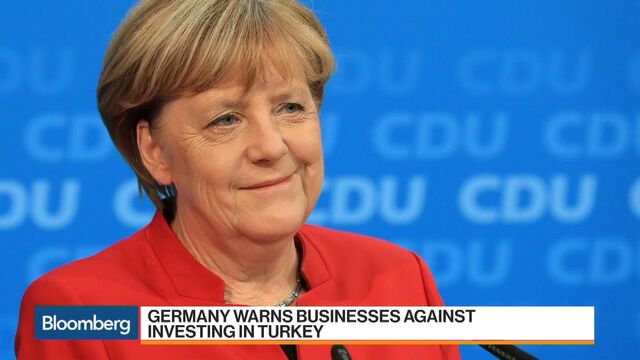 Turkish President Recep Tayyip Erdogan lashed out at the German government for pushing the two nations' escalating tensions into the economic realm, even as he sought to reassure German companies in his country.
Simmering disputes between the two NATO allies boiled over into full view this week with the detention of a German human-rights activist in Istanbul. A day after Germany warned that the controversy could take its toll on trade relations, Erdogan accused Berlin of attempting to scare off business.
"I'd like to remind my German friends and the whole world: You aren't strong enough to slander Turkey," Erdogan told an event in Istanbul on Friday. "You aren't strong enough to scare us with these kinds of things. We will continue to have German companies operating in Turkey under assurance as we have until today."
Backed by Chancellor Angela Merkel, German Foreign Minister Sigmar Gabriel on Thursday announced a "re-orientation" of policy toward Turkey after the government called charges against the rights activist, Peter Steudtner, "absurd." Measures include warnings to German travelers, who make up a significant portion of European tourists to the country, and could extend to the withdrawal of government-backed export guarantees.
Business Groups
German business groups backed the threat, with the BGA exporter lobby warning of a "significant drop" in deliveries in bilateral trade worth more than $36 billion last year.
Erdogan zeroed in on a reported "black list" of German companies, saying that he asked his intelligence chief and interior minister whether any German firms were being investigated.
"The answer I got yesterday was that they're all lies," Erdogan said.
Germany's federal police office said it received a list from Turkish authorities containing "items and accusations" that weren't sufficiently concrete to warrant investigation. Security officials said the list contained 678 items. Handelsblatt reported earlier that the list accused companies including Daimler AG and BASF SE of supporting terrorism.
The rapidly escalating situation affects two NATO allies that are mutually dependent. Germany is Turkey's largest trading partner, while ethnic Turks make up Germany's largest minority. More than 6,800 German firms are currently operating in Turkey, according to the German-Turkish chamber of commerce.
German Tensions With Turkey May Further Shift Europe Tourism Map
Before Erdogan spoke, tensions spilled into the open elsewhere, with Merkel's veteran finance minister, Wolfgang Schaeuble, comparing Turkey to the former communist East Germany, while Turkish Foreign Minister Mevlut Cavusoglu said his country wouldn't give in to threats or "blackmail."
Schaeuble charged Turkey with an unwillingness to meet basic consular standards, a turn of events that "reminds me of how it used to be in the GDR," he told Bild newspaper on Friday, referring to the German Democratic Republic, as East Germany was known.
"It was clear to whoever traveled there: If something happens to you, no one can help you," Schaeuble said. "If Turkey doesn't stop this game, we'll need to tell people that you travel there at your own risk, we can no longer offer you guarantees."
— With assistance by Rainer Buergin, Selcan Hacaoglu, and Tino Andresen
Before it's here, it's on the Bloomberg Terminal.
LEARN MORE