Naspers Awards CEO $10.4 Million in Long-Term Share Options
By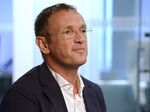 Naspers Ltd. awarded Chief Executive Officer Bob Van Dijk $10.4 million in long-term share options as Africa's biggest company by market value seeks to boost its global internet businesses amid declining profit at the sub-Saharan Africa pay-TV operation.
The incentive comes on top of a salary of $2.2 million in pay and bonuses for the most recent fiscal year through March, the Cape Town-based company said in its annual report published Friday. Chief Investment Officer Mark Sorour received $2.6 million, including a $1.2 million bonus based on his deal making success, which included the sale Polish online business Allegro for $3.25 billion.
The pay awards correspond with a year in which Naspers earnings increased by 41 percent to $1.8 billion, driven by the performance of Chinese internet company Tencent Holdings Ltd. Naspers executives met with investors in the U.S. and London last month about a planned bond issue to help repay debt and pursue further acquisition targets as the company seeks more fast-growing investments.
Naspers shares gained 0.6 percent to 2,806.25 rand in Johannesburg on Friday, extending the years gains to 39 percent. The stock is the year's best performer on the FTSE/JSE Africa Top40 Index.
Before it's here, it's on the Bloomberg Terminal.
LEARN MORE