French Insider-Trading Probes Face Curbs on Access to Phone Data
By
Constitutional Court ruling limits AMF access to phone records

Court says legislation ignored suspects' privacy rights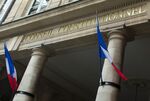 French markets regulators' powers to investigate insider trading face curbs following a court ruling that creates privacy protections for investors and traders.
The ruling from France's Constitutional Court on Friday will limit the Autorite des Marches Financiers' access to phone records during civil market-offense probes after judges criticized lawmakers for failing to include privacy-right safeguards for suspects when enacting the legislation overseeing the issue several years ago.
Phone records are a "crucial" tool to gather evidence in insider-trading probes, the AMF said in a statement after the ruling. Prosecutors use the data to prove the crucial element of when people suspected of sharing non-public information talked to one another. In the U.K.'s biggest probe last year, investigators used records from cellular phone towers to prove the defendants had met.
Claude Nicole Ohl, a lawyer for the AMF, told the court at a hearing earlier this month that any immediate order against the regulator would jeopardize more than 40 cases where the suspects may have pocketed 80 million euros ($93 million) through insider trading. The court delayed implementation of the ruling until 2019 to prevent "excessive consequences" for the AMF, which enforces market offenses with administrative fines and bans, and it's up to the French lawmakers to decide what privacy safeguards are necessary.
The AMF said it will "work toward an amendment of the legislation to provide more explicit guarantees without jeopardizing the goal of an effective enforcement of market offenses."
EU Cases
Loic Henriot, a lawyer for one of the two men that brought the case against the AMF, said the the court could have gone further and immediately adopted European Union case-law on privacy.
"It made a fool of itself in keeping alive an unconstitutional law for another 18 months even though it's no longer applicable or even in use" by phone operators, Henriot said in an interview. "It's urgent that lawmakers tackle this issue to ensure everyone's rights are protected."
The lawyer underlined that the EU's top court had ruled in December that laws imposing forcing phone operators to retain traffic and location data should be limited and provide sufficient guarantees for the protection against the misuse of the data.
Criminal Cases
During the case's hearing last month, a Geneva financier's lawyer revealed that his client, Lucien Selce, faces criminal insider-trading charges as he intervened as an interested third party to lend his support to two men's case against the AMF.
In a country where insider trading is typically a civil offense, it was the second criminal case revealed in unrelated court proceedings within the last few weeks after charges against a former Societe Generale SA managing director were disclosed at a June employment tribunal hearing.
In the criminal case, Selce's lawyer said AMF officials were able to pinpoint that his client made regular trips to a luxury Alpine ski resort and the sun-splashed island of Corsica.
Selce, Vista Capital Management SA's co-founder, sees that as a breach of privacy given that the trading he's been blamed for took place in Switzerland, his lawyer, Frederic Peltier,  told the court.
"It has nothing to do with the investigation, but it bothers my client for personal reasons I won't detail," Peltier said.
Before it's here, it's on the Bloomberg Terminal.
LEARN MORE