Anxiety Over the Debt Ceiling Is Showing Up in Treasury Bills
By
Supply on course for 'tug of war,' Pimco's Schneider says

Investor concern already evident as October bills lag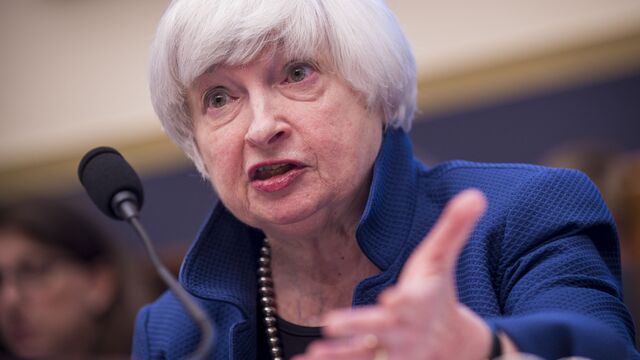 U.S. Treasury bills, a sleepy $1.7 trillion corner of the fixed-income universe, are about to be pulled into the spotlight. 
Investors in the shortest-maturity U.S. obligations, a parking spot for the world's cash, are going to have to navigate two major challenges with a potentially contradictory impact: The looming government debt-ceiling impasse and the long-awaited start of the Federal Reserve's unwinding of its massive balance sheet.

Some Wall Street analysts say that the Treasury may need to start slashing bill supply as soon as next month to avoid exhausting its borrowing authority, causing bill rates to drop. Meanwhile, the bill market risks getting caught up in any Fed move to taper its $4.5 trillion bond portfolio, which could lead Treasury to boost bill offerings, pushing rates higher.
With bill supply, "it's a bit of a tug of war, but for investors, it's a game of Twister," said Jerome Schneider, head of the short-term and funding desk at Pacific Investment Management Co. "They're trying to maintain a sense of balance between opportunity and the changing mechanics of the marketplace, which include the debt ceiling."
It's shaping up like a two-pronged threat. Investors will need to find a place to stow their money as Treasury slashes supply, while also avoiding securities susceptible to default if the debt ceiling isn't eventually raised or suspended.
The Congressional Budget Office says Treasury can fund the government through early to mid-October. Yet after this week's failure of Republican efforts to pass health-care legislation, anxiety deepened over whether legislators will be able to agree on raising or suspending the debt ceiling before cash runs out.
Yields on Treasury bills maturing Oct. 19 have risen by about 10 basis points from Wednesday through Friday, exceeding those on bills maturing later in the year.
"These are the kinds of yields you'd be likely to see in late September," said Thomas Simons, a money-market economist at primary dealer Jefferies LLC. "It doesn't fit with the usual debt-ceiling histrionics."
Escape Strategy
There's always the possibility that investors' task will be simplified should lawmakers hammer out a debt-ceiling agreement before Treasury has to start cutting bill supply. One approach floated this month was to include an increase in the debt limit in a must-pass measure such as a veterans' bill.
For a precedent on how this all may shake out, investors can look to 2013, the last time a debt-ceiling standoff coincided with the threat of a government shutdown.
In that episode, Treasury slashed bill supply by about $150 billion one month before the Oct. 17 deadline. As a result, rates on bills and overnight Treasury repurchase agreements -- a key source of overnight financing for dealers -- descended to around zero and briefly dipped into negative territory.
Rates then surged 20 to 30 basis points about two weeks before Treasury's borrowing authority expired as investors avoided collateral that could potentially default.

Once the debt ceiling is resolved, Treasury will probably ramp up short-term supply to replenish its coffers, which may push bill rates higher. Treasury will also need to figure out how to offset a Fed move to start unraveling its holdings, which some analysts see happening as soon as October.
Dealers' View
In the days ahead, Treasury will get primary dealers' views on how this will all unfold. In a survey before this quarter's refunding, Treasury asked the group for estimates on when the Fed will start trimming its holdings, the future size of the central bank's balance sheet and how Treasury should tackle financing needs caused by deficits and the Fed's unwind. The feedback will be available along with the refunding announcement Aug. 2.
To make up for the Fed's unwinding, Treasury will probably start by adding bill supply because "after money-market reform, the front end of the curve still seems like an attractive area of issue," said Steve Kang, a strategist at Citigroup Inc., a primary dealer.
That appeal stems in part from government-focused money funds being awash in cash after last year's overhaul of money markets. New regulations spurred investors to move more than $1 trillion into government money funds, which buy securities such as T-bills.
What it all boils down to is that the normally tranquil bill market will have plenty to digest in coming weeks.
"In the short-term, it comes down to what you think the Fed is going to do" regarding the timing of tapering, Schneider said. "In the medium-term, it goes down to how quickly will the debt ceiling be resolved."
— With assistance by Anna Windemuth
Before it's here, it's on the Bloomberg Terminal.
LEARN MORE