politics
Congress Must Avoid Spooking Markets on Debt Limit, Wyden Says
By
Democrat urges Congress to avoid causing debt prioritization

Spending-bill increase cited as model for debt-ceiling issue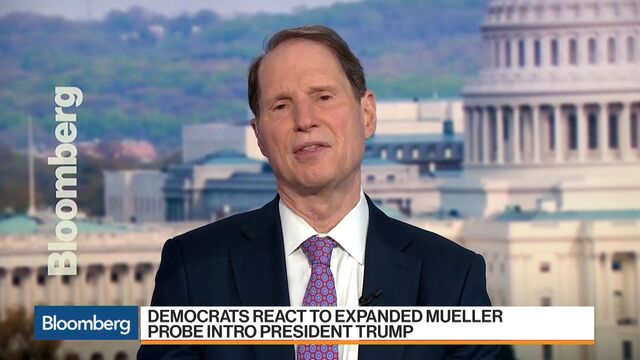 The U.S. debt limit needs to be raised in a "calm, thoughtful" manner that steers clear of political uncertainty that would spook markets, Democratic Senator Ron Wyden said.
Congress must avoid any political standoff that could set in motion "disruptive activities" such as a need to choose which bills to pay and which to delay, Wyden of Oregon, the top Democrat on the Senate Finance Committee, said Friday in an interview with Bloomberg News.
The government will reach its statutory limit on borrowing sometime in October, the Congressional Budget Office estimates. President Donald Trump's administration has asked Congress to raise the ceiling before then, but it's running into the same complications the Obama White House encountered: lawmakers, mostly Republicans, who want to use the debt limit as leverage to force unrelated policy changes.
Wyden said he prefers a clean debt-ceiling increase, one without any controversial policy riders. Trump's administration has been divided on that issue, with Treasury Secretary Steven Mnuchin pushing for a clean bill while budget director Mick Mulvaney and White House economic adviser Gary Cohn have said they're open to adding spending cuts or other riders to a measure to increase the limit.
While having a Republican-controlled Congress should be seen as a benefit to Trump in driving his agenda, this week's failure of Republican efforts to pass health-care legislation led to deepening anxiety over whether legislators will be able to agree on raising or suspending the debt ceiling before cash runs out.
Concerns have surfaced in the Treasuries market, with traders willing to pay more for bills maturing after Oct. 19 to avoid being caught holding securities vulnerable to a technical default. Yields on Treasury bills maturing Oct. 19 have risen by about 10 basis points from Wednesday through Friday, exceeding those on bills maturing later in the year.

"I am very much aware of how important it is to this country's well-being and economic stability that the handling of the debt ceiling be done responsibly," Wyden said. "I personally think that the best way to do that is for both sides to knock off the politics, find common ground."
Market participants are also worried that a once-secret plan written by the Obama administration may be called into action by Trump should Congress reach an impasse on raising the debt limit. That blueprint, developed in 2011 -- the same year the U.S. credit rating was cut for the first time -- would mean the U.S. would prioritize payments on government securities over other obligations.
While behind closed doors the Treasury Department is trying to reassure bond traders that it isn't considering such a plan this year, Mnuchin has recently declined to publicly say that he wouldn't prioritize payments. He did make such a statement in January during his confirmation hearing.
Read more: Trump may need Obama's secret debt plan, worrying markets
Wyden said the model for handling the debt-ceiling increase was set earlier this year, when Republicans and Democrats avoided a government shutdown by passing a $1.17 trillion spending bill that set aside partisan priorities. Among other things, Republicans ignored Trump's call to include funding for a wall at the U.S.-Mexico border.
Wyden said there are preliminary talks about the method to boost the debt ceiling, but he declined to say whether it may be added to an unrelated measure concerning veterans' health care that is moving through Congress.
Still, he expressed concern about the global and financial implications of the political uncertainty surrounding the Trump administration amid a Russia investigation and a stagnant policy agenda.
"It does enormous damage to our country's standing to have all of this churn and uncertainty," Wyden said. "Our allies don't know what's happening on taxes, they don't know what's happening on infrastructure, they can't make sense out of this health-care debate."
— With assistance by Laura Litvan, and Alex Harris
Before it's here, it's on the Bloomberg Terminal.
LEARN MORE