Balance of Power: Trump's Nuclear Option
By and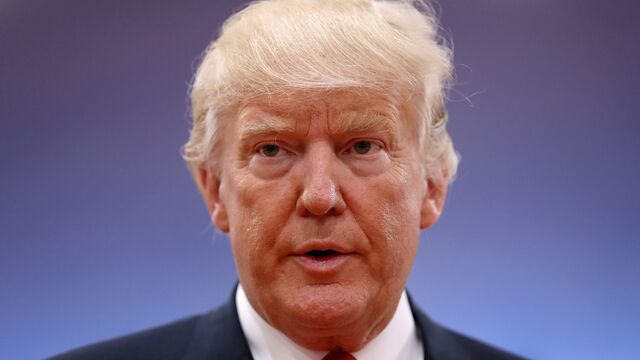 Donald Trump has laid down one red line for special counsel Robert Mueller's Russia probe: keep my finances out of it.
But yesterday, Bloomberg exclusively revealed that Mueller had crossed that line. He's expanded his investigation into a variety of Trump deals, from a mansion sale to a Russian oligarch in 2008 to the Miss Universe pageant in Moscow in 2013.
The development set off furious speculation that Trump might cross a red line of his own, and seek to fire Mueller to quash the investigation — something he's not actually empowered to do.
But Trump's own words to the New York Times suggest the depth of his anger at Mueller. "I think that's a violation," Trump said Wednesday of Mueller possibly going after his business deals. "Look, this is about Russia." The Washington Post reports that Trump's lawyers are looking for ways to discredit Mueller and his team.
It's easy to bandy about the term "constitutional crisis" too lightly when it comes to Trump. He didn't restrain himself before when it came to firing his FBI director. Republicans are pleading with him not to do it again. Restraining himself on Mueller will be a true test for Trump.

Sign up to receive the Balance of Power newsletter in your inbox, and follow Bloomberg Politics on Twitter and Facebook for more.
Global Headlines
Scaramucci new White House comms chief? | Trump is said to be considering SkyBridge Capital founder Anthony Scaramucci to be White House communications director, a critical post as the administration struggles to get its message heard over the din of the Russia investigations. The job has been open since May, when Republican strategist Mike Dubke resigned after less than three months in the role. Scaramucci was a Trump campaign fundraiser and adviser during the transition.
Is Abe about to face a leadership challenge? | As Prime Minister Shinzo Abe's popularity slides, focus is turning to his foreign minister, who has his own faction in the ruling Liberal Democratic party. The famously publicity-shy Fumio Kishida recently appeared in promotional photos for a UN program that were splashed over local media, fueling talk he may gear up to challenge Abe in a party vote next year.
Poland against the world | The Polish government is defying mass protests, the threat of European Union sanctions and the U.S. State Department as it pushes through legislation that will give it sweeping powers over the judiciary. With more rallies expected over the weekend, some commentators are now calling this the worst political crisis to hit Poland since the fall of Communism.

Panda diplomacy has its limits | An informal alliance between China and Germany — cemented when Xi Jinping presented Angela Merkel with pandas for Berlin's zoo earlier this month — is already showing cracks over trade and investment. The German cabinet has approved new powers to block purchases of strategic companies by Chinese firms, prompting a warning from China that it risks appearing protectionist. 
Pyongyang's resilience | If Western powers hoped to squeeze North Korea's economy through sanctions, it doesn't appear to be working: Growth hit its fastest rate last year since 1999 at 3.9 percent, propelled by military spending. Still, per capita income at $1,300 was just 4.5 percent of its southern neighbor, suggesting Kim Jong Un's citizens aren't feeling much of the prosperity.
And finally... Rex Tillerson has spoken firmly as secretary of state about the need to retain sanctions against Russia. So the Treasury's decision to fine Exxon Mobil Corp. for "egregious" violations of those sanctions during his time as chief executive is a bit awkward. Tillerson's old colleagues probably aren't too worried. The fine of $2 million is less than two hours worth of Exxon's 2016 profit.

— With assistance by Karl Maier
Before it's here, it's on the Bloomberg Terminal.
LEARN MORE