Americans Are Quickly Losing Street Cred Abroad
Five of the most interesting ideas of the week, and the stories behind them.
By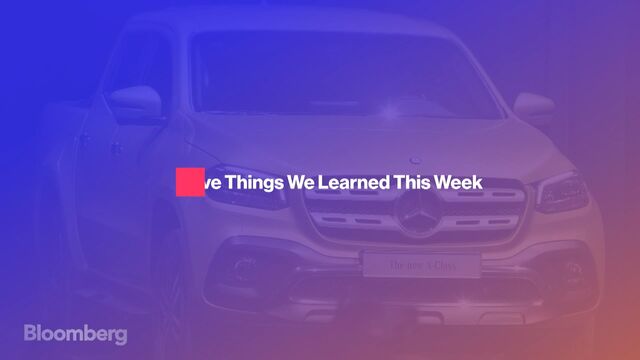 1) Jamie Dimon, Uncensored
The quote ricocheted across Wall Street. "It's almost an embarrassment being an American traveling around the world," said Jamie Dimon, chief executive of JPMorgan Chase & Co. Read into it what you like, but Dimon said he was talking about how gridlock and bad policies are preventing growth. He said the governments in Israel, Ireland, and France "deeply recognize" the importance of low corporate taxes. Bloomberg's Hugh Son reports: "Dimon said he doesn't like listening to the 'stupid shit' Americans have to deal with, expressing frustration over the nation's inability to invest in infrastructure and overhaul the tax code."
2) Frankfurt Is Looking Like the Big Winner From Brexit
It was the big threat that some Brexit supporters didn't take seriously: If the U.K. left the European Union, would crucial banking jobs leave London? Where would they go? What city could offer the same experience, convenience, and lifestyle as London? And would banks really follow through? Yes, it turns out. And Frankfurt, the banking capital of Germany, is consistently turning up as the destination of choice. Most recently, Citigroup Inc. picked Frankfurt for its newest trading hub and will hire for about 150 to 250 new roles there, according to a person with knowledge of the decision. The next day Bloomberg News reported Morgan Stanley plans to relocate some of its European broker-dealer business to the German city from London, while moving parts of its asset management operations to Dublin. In fact, Frankfurt is already running out of office space.

3) Have We Hit Peak Pickup Truck?
There's now no doubt how hot the truck market is. Mercedes-Benz this week debuted a pickup perfect for a weekend trip quad biking or sailing, kitted out with leather seats and oak trim. "Our pickup convinces as a workhorse just as much as a family and lifestyle vehicle," Chief Executive Officer Dieter Zetsche said. The new X-Class starts at $43,200 and will be available from Germany to South Africa to Australia—but won't compete with Ford F-150s in the U.S. just yet. Trends peak when the unthinkable happens. This may be it.

4) There's Billions in Trash Fish
Bet you've never heard of this billionaire: Chuck Bundrant. He is founder and majority owner of Trident Seafoods, and he got his big break by persuading people to eat pollock, which was popular in Asia. The fish was picked up by Long John Silver's, McDonald's, and Costco, and Trident expanded into harvesting and processing fish, as well as selling canned salmon. Bundrant lobbied Congress for broader protection for U.S. fishing waters to keep out foreign companies. The Bloomberg Billionaires Index estimate his worth at $1.1 billion.
5) Why You Should Never Eat Food on Planes
Not because it tastes terrible. (Though that's not a bad reason.) Not because of safety risks. It's all about jetlag. Travel consultant Melissa Biggs Bradley says that there's a theory some flight attendants swear by that high altitudes prevent your digestive system from functioning properly. "Someone said to me it's like being under anesthesia," she said. "When you get off the plane, everything restarts and [your digestive system] has so much more work to do and so it makes you more tired."

Before it's here, it's on the Bloomberg Terminal.
LEARN MORE