politics
'The Mooch' Charms in White House Debut But Challenges Await
By
Scaramucci exudes confidence in polished first performance

Repeatedly professes 'love' on camera for Donald Trump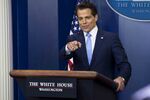 It's not hard to see why Donald Trump loves The Mooch.
New White House communications director Anthony Scaramucci strolled to the briefing room podium for the first time Friday and exuded a polished New York confidence the president has long seen in himself.
He was calm and collected, in an expertly tailored suit, with an easy manner perfected over years of television appearances. He peppered his remarks with praise for his new boss -- declaring Trump as having perhaps the best political instincts in all of history -- and humility for himself, making fun of his own book sales, his need for makeup, and even his height.
For a White House that could stand to have better relations with the press, the man known on Wall Street by the affectionate nickname "The Mooch" could be a welcome addition -- cool, confident, conversational and relaxed, a sharp contrast to the combative, excitable and easily goaded White House Press Secretary Sean Spicer.
Scaramucci described an almost playful rapport with Trump -- and a sense that Trump has his back, something Spicer, who resigned Friday in protest, never truly had. That weakness -- apparent from his first turn at the podium, when he falsely insisted that the president had garnered the largest inauguration crowd in history -- became a vulnerability that undercut his credibility with the press.
Scaramucci's West Wing moment was a long time coming. A campaign fundraiser for Trump and regular adviser during the presidential transition, the Wall Street financier reached an agreement to sell his stake in SkyBridge Capital just before the inauguration in the expectation he would join the White House staff as director of public liaison. He never got the job, nor up until now other posts he'd been considered for, most recently ambassador to the Paris-based Organisation for Economic Co-operation and Development.
The agreement he reached to sell his stake in Skybridge for roughly $80 million to Chinese conglomerate HNA Group Co. has drawn regulatory scrutiny. The ownership of HNA Group, one of China's most prolific dealmakers, is murky.
Scaramucci's Test
Unfortunately for Trump, the test of Scaramucci's success will not be whether he can outshine Spicer in the briefing room. Instead, it's whether he can devise a way to win over an American public that has decisively turned against the president historically early in a presidential administration.
Trump's job approval was 36 percent in the most recent Gallup poll conducted July 17-19. No president has been less popular in his first six months in office since the advent of modern polling.
"To use a Wall Street expression, there might be an arbitrage spread between how well we are doing and how well some of you guys think we're doing and we're going to work hard to close that spread," Scaramucci said.
The job of communications director is traditionally one without glamour -- a tedious and painstaking effort to brief surrogates, plan events, and balance the countless equities among the many people carefully watching every utterance from a White House. It's also a management role, running a small, tight-knit group of press staffers who field thousands of inquiries from reporters every day and are tasked with putting the best spin on the president's policies.
But White House officials suggested the New York businessman with only minimal ties to the Republican establishment was really hired as a glorified television surrogate, assigned to win over audiences on the cable shows Trump watches religiously.
'Love' For Trump
In his debut appearance on the White House podium, Scaramucci deployed that charm in full -- not least on his most important audience, the president. He unapologetically professed his "love" for Trump on camera more than a half dozen times, claimed the president to be instilled with "good karma," and even lauded Trump's athletic skills.
"I've seen this guy throw a dead spiral through a tire. I've seen him at Madison Square Garden with a topcoat on, he's standing in the key, and he's hitting foul shots and he's swishing them, OK?" the new spokesman enthused. "He sinks three-foot putts."
Asked about his lack of professional communications experience, Scaramucci swiftly pivoted to praise the boss.
"If anything I'm hoping to learn from him," he said. After all, Trump is "phenomenal with the press" and "an unbelievable politician."
He showed an ability to gracefully sidestep questions without seeming out of touch or ill-informed, and his self-deprecating quips carried none of the dread of a pratfall that accompanied similar attempts at levity by Sanders or Spicer.
"I'm a super-optimistic guy," he joked at one point. "I'm too short to see the glass anything other than half full."
He leavened boasts with flashes of humor, pointing out he is a Harvard Law graduate -- "little name-dropping there, if you don't mind" -- and a best-selling author -- "you can come into my basement, I'll show you every copy."
"In order to get it to be a best-selling book," he explained, in case reporters didn't get the joke.
Lesson in Advocacy
Scaramucci demonstrated how to advocate for the president without slipping into the farcical combativeness many of Trump's surrogates adopt. Rather than lambasting CNN, which last month retracted a story linking him to a Russian investment fund, he said he understood how journalists could occasionally make mistakes. It was a decided contrast from Spicer, who often ignored journalists from the network in his briefings.
He also didn't shy away from tough subjects. Confronted with his past dismissal of Trump as a "hack," Scaramucci offered a mea culpa directly to the television cameras.
"He brings it up every 15 seconds," he said. "So Mr. President, if you're listening, I personally apologize for the 50th time for saying that."
(
Updates with additional detail on Scaramucci beginning in sixth paragraph.
)
Before it's here, it's on the Bloomberg Terminal.
LEARN MORE