U.K. to Accept Free Movement Years After Brexit: Guardian
By
May's cabinet reaches consensus around transition, paper says

Premier tells business she wants to avoid Brexit 'cliff-edge'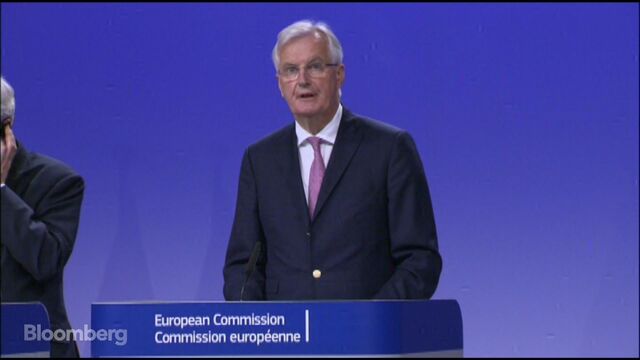 The U.K. cabinet will accept the free movement of European Union citizens for up to four years after Brexit as part of a transitional deal, the Guardian reported in its Friday edition, citing an unidentified senior member of the cabinet.
Those seeking to soften Brexit within Prime Minister Theresa May's top team are confident they've secured consensus in the cabinet around a transition deal, the newspaper reported. That deal -- which could retain free movement rules -- may last as long as four years, but was more likely to last for three, the paper cited the cabinet member as saying.
The report chimes with a story in the Times on Friday that May is prepared to allow free movement for EU citizens for up to two years after Brexit under plans devised by Chancellor of the Exchequer Philip Hammond. If that's the case, it marks a shift in tone from the premier, who has made regaining control over Britain's immigration policy a red line of her approach to Brexit.
"If it is true that the cabinet now accept the need for a transitional period to avoid a cliff-edge Brexit, it is a welcome U-turn from ministers and a big victory for the chancellor," Labour lawmaker Wes Streeting said in a statement from Open Britain, a group campaigning to soften Brexit. "If they are serious about doing what is best for our economy, then they should start exploring British membership of the single market and the customs union beyond a transition period."
'Overarching Goal'
Hammond has led the push within the cabinet to secure a Brexit that prioritizes protecting jobs and the economy over immigration curbs. He's said he's seeking a transition period of at least two years -- in marked contrast to cabinet colleague Liam Fox, the international trade secretary, who has said a few months would be enough.
Ministers now hope to agree to a transitional deal as soon as possible in order to give clarity to business, the Guardian said.
The premier hosted representatives of British business in a meeting at her offices in Downing Street on Thursday that was also attended by Hammond and Business Secretary Greg Clark. She sought to allay their concerns about Brexit, reiterating "that the government's overarching goal is for a smooth, orderly exit culminating in a comprehensive free trade deal with the EU, with a period of implementation in order to avoid any cliff-edges," her office said in a statement.
The Times and Guardian reports are unlikely to go down well with Brexit supporters. Ending free movement was one of the main planks of the campaign to secure a "leave" vote in last year's referendum, a fact May has repeatedly acknowledged and used to underscore her argument that upon Brexit, Britain should regain control of immigration.
— With assistance by Svenja O'Donnell
Before it's here, it's on the Bloomberg Terminal.
LEARN MORE