politics
U.K.'s Gove Pledges High Environmental Standards in Green Brexit
By
Leaving EU gives U.K. 'lifetime opportunity' to reform rules

Environmentalists urge action on air quality, protecting bees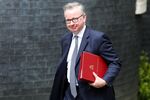 Britain will lead the world in protecting the seas, habitats and climate after it's left the European Union, Environment Secretary Michael Gove will say in a speech Friday outlining his vision for a "Green Brexit."
Describing himself as "an environmentalist," Gove will say that leaving the EU creates new opportunities for Britain to review policies governing everything from the regulation of chemicals and licensing of pesticides to air quality, woodlands and animal welfare. Gove will deliver the speech, his first in his new role, at the environmental group WWF UK.
"Leaving the EU gives us a once in a lifetime opportunity to reform how we manage agriculture and fisheries, how we care for our land, our rivers and our seas, how we recast our ambition for our country's environment, and the planet," Gove will say, according to extracts of his speech emailed by his office. "Outside the European Union there is scope for Britain not just to set the very highest standards in marine conservation, but to be a global leader in environmental policy across the board."
The speech by Gove, who was one of the most prominent campaigners for a "Leave" vote in last year's referendum on EU membership, aims to reassure the British public that the government won't relax environmental standards after Brexit. Environmentalists as well as the opposition Labour and Liberal Democrat parties have said that environmental protections that result from EU laws must be preserved once the country has left the bloc.
"With all the evidence suggesting that leaving the EU will be a disaster for our environment, Michael Gove must deliver a package of strong environmental regulations if he wants to make a 'green Brexit' a reality," Friends of the Earth Chief Executive Officer Craig Bennett said in a statement. "Current EU rules aimed at tackling air pollution and climate change and protecting our birds, bees and nature must not be watered down, and mechanisms must be put in place to enforce them post-Brexit."
Bennett said Gove has two opportunities in the near future to burnish is environmental credentials: by delivering a "tough package of measures" to tackle Britain's air pollution problem, and by backing EU moves to ban pesticides that harm bees.
Before it's here, it's on the Bloomberg Terminal.
LEARN MORE