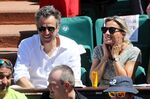 For an industry that trades on its creative smarts, advertising is run by a pretty elderly bunch. The bosses of the world's biggest ad groups such as WPP Plc's Martin Sorrell have tended to be men in their sixties and seventies.
So Arthur Sadoun, the new 46-year-old boss of Publicis Groupe SA, will certainly change the dynamic on Madison Avenue. Let's hope the dapper, fast-talking Frenchman capitalizes on his relative youth to give a needed jolt to both Publicis and the ad world in general.
Taking his employer first, Publicis has been losing market share to rivals including WPP and Omnicom Group Inc. since 2014. Its expansion into offering tech services to clients, after the $3.7 billion acquisition of Sapient, hasn't paid off yet.
The industry context isn't any more cheerful. Some investors worry that existential threats -- from Facebook and Google's dominance in online ads to the rise of new consulting rivals and pressure from big clients to do more for less -- will condemn the agencies to lower profits.

Sadoun can take inspiration from another fresh-faced leader seeking to shake up the established order: Emmanuel Macron. The 39-year-old French president might yet fall flat on his face, but at least he's trying to throw out old ways of doing things and projecting relentless optimism.
The new Publicis boss could embody similar change (albeit on a less grand scale). His arrival signals a generational shift from the Martini-loving Mad Men who thrived in TV's golden age to those who truly understand the world of smartphones and Snapchat.
The sprawling advertising holding companies, built largely by acquisition between the 1960s to 1990s, must become much more efficient operating companies. For too long, they've functioned as a loose collection of agencies often working at crossed-purposes.
Sadoun, who came up through the creative ranks at Publicis and has a good touch with clients, is impassioned when he talks about how the big ad companies haven't changed much in 30 years -- coincidentally, about the same period that his 75-year-old predecessor Maurice Levy was running things.
He wants to move much more quickly. Part of this will be carrying on the work started by Levy last year, aiming to reorganize the 14 Publicis agencies into four hubs: creative, media buying, digital marketing, and health care. The aim is to squeeze out 70-90 million euros of savings by the end of 2018, while responding to big clients who are fed up dealing with dozens of different agencies.
The company certainly needs a new approach, though there are signs of a tentative recovery. Organic revenue growth in the second quarter was 0.8 percent versus a 1.2 percent decline in the same period last year, while Sadoun said the second half would see a pick-up.

If he manages to properly integrate Sapient's army of coders with his creatives, that could boost sales too. Big brand owners are desperate to have the best e-commerce apps and to make sense of a world of where their products survive or fail on Facebook, Instagram and Twitter. UBS analysts predict Publicis's organic revenue growth recovering to 2 percent next year, compared to 0.9 percent average between 2015 to 2017.
Sadoun has already shown he shares Macron's taste for grand gestures. At the industry awards bash in Cannes, he announced that Publicis would stop taking part in such contests and trade shows for all of next year. He will spend the cash instead on an AI platform named "Marcel" (after the Publicis founder) to help 80,000 employees work better together. 
The move was greeted with mockery by rivals and disbelief among some in the rank and file, for whom industry recognition and guzzling rose on the Riviera is a way of life. But it signaled that Sadoun wasn't afraid to challenge company and industry norms. He'll need plenty of that bravado to turn around Publicis and convince the Procter & Gambles of the world that the ad guys can still do it in the social media age.
Before it's here, it's on the Bloomberg Terminal.
LEARN MORE