French Lawmaker' Sartorial Rules Upended With Jacket, Tie Ruling
By
Ruling comes after leftist deputies challenged tradition

Turns out, there never was a rule requiring jacket and tie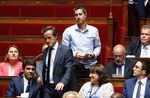 France's parliamentary elections in June didn't just oust the two parties that have dominated French politics for a generation, it's also upended the legislative body's sartorial standards. 
The National Assembly's administrative office Thursday ruled that male deputies don't have to wear jackets and tie.

Some of the 17 deputies from far-left party France Unbowed, including party leader and two-time presidential candidate Jean-Luc Melenchon, showed up to the first day of parliament on June 27 in open neck shirts and sweaters, leading to complaints from other deputies. The National Assembly's administrative office said today that there's no written rule saying that men must wear a jacket and tie, simply that dress be "respectful of the institution."
President Emmanuel Macron's political movement Republic on the Move won a majority in the National Assembly, which has been dominated since the early 1980's by either the Socialists or the Gaullists.
As a candidate, Macron sometimes went without a tie or even a shave. Since his election he's only worn dark sober suits at official events, even when he tried his hand at several Olympic sports to promote Paris's candidacy for the 2024 games.
Before it's here, it's on the Bloomberg Terminal.
LEARN MORE