Sweden Urges Nordea to Stay Put as Bank's HQ Saga Drags On
By , , and
Bank now expects to make a decision on domicile by September

Second-quarter net interest income, profit miss estimates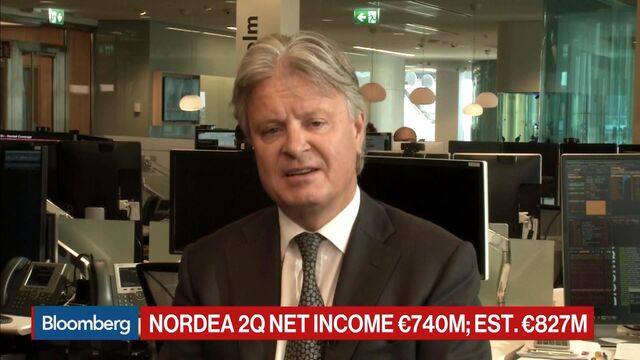 Sweden's government said it wants Nordea Bank AB to keep its headquarters in Stockholm after the Nordic region's only global systemically important financial institution delayed an announcement on whether to move.

The bank, which had previously said it would have a decision in the summer, said it now needs until September. Nordea wants to use the extra time to assess how Sweden's plan to explore the merits of joining Europe's banking union affects its prospects.
From the government's perspective, "it's good that Nordea takes time to analyze" the situation so it "can make an informed decision," Enterprise Minister Mikael Damberg said in an interview after a government press briefing in Stockholm on Thursday.
"We would like Nordea to stay in Sweden," he said.
Nordea's chief executive officer, Casper von Koskull, said management wants to assess news from Sweden and Denmark that the countries may seek bank union membership. The CEO has made clear he would rather have Nordea based inside the union, which he argues would provide a more predictable regulatory environment.
Nordea has identified Copenhagen and Helsinki as potential locations for its HQ. Finland is the Nordic region's only euro nation and a member of the banking union. Denmark's government on Thursday reiterated its intention to have a decision on whether to join the bank union by the autumn of 2019. Sweden's government has said it will also need about two years to decide.
Von Koskull said that even if Sweden and Denmark haven't arrived at any conclusion by September, the bank's management is "confident" Nordea will be ready to make a decision. In the bank's second-quarter results, published on Thursday, management said the question of banking union "is the single most important factor when making a final decision in September on domicile."
Read more: Bank rescues leave Sweden questioning point of bank union
But the new timeline the bank is setting itself is hard to understand, according to Matti Ahokas, head of equity research at Danske Bank in Finland. "Not a lot of things will change," he said. "If Denmark or Sweden were to announce something some time, that very likely won't happen in September, or before."
Nordea's Structure
Tensions among Nordic regulators have grown after Nordea this year converted its subsidiaries across the region into branches overseen from Stockholm. That undermined the supervisory clout of Finland, Denmark and Norway, even though Nordea represents significant chunks of the banking markets in all three countries. Finland has lobbied hard to persuade Nordea to move its main office to Helsinki, while Denmark has promised it wouldn't impose any new financial regulations, in contrast to Sweden.

Nordea's HQ announcement came in connection with its second-quarter results, which showed the lender lagged behind analyst estimates on net interest income and profit.
Shares in Scandinavia's biggest bank dropped as much as 5.7 percent and traded 4.9 percent lower as of 12:06 p.m. in Stockholm, its lowest level since April. The bank was the day's worst performer in the Bloomberg index of European financial stocks.
Second-Quarter Results
Net interest income was roughly flat at 1.18 billion euros ($1.35 billion), slightly below an estimate for 1.21 billion euros
Net fee and commission income rose 6 percent to 850 million euros
Net income for the period was 740 million euros, missing a Bloomberg analyst estimate of 827 million euros
Von Koskull said the bank was front-loading costs related to upgrading its systems to introduce more digital technology. Nordea reported total costs last quarter of 1.29 billion euros, up 8 percent from a year earlier in local currencies.
"Really what actually is characterizing this quarter is our cost, and we had actually warned on that," von Koskull said. "So that actually comes as planned and the reason for that is that we are going through a tremendous transformation."
Nordea is the last of Sweden's biggest banks to report second-quarter earnings.
Read more about Swedbank's quarterly results
Read more about Handelsbanken's quarterly results
Read more about SEB's quarterly results
Nordea's Swedish operations are the product of a banking story that started way back in the mid-1800s. After a series of mergers late last century and a wave of deregulation, what was then called Nordbanken was bailed out and restructured by the Swedish government during a financial crisis in the 1990s. The state chose to combine two bankrupt lenders, Nordbanken and Gota, and put the remaining impaired assets into a bad bank. That entity then merged with banks in Finland, Denmark and Norway to form today's Nordea.
— With assistance by Hanna Hoikkala, Kati Pohjanpalo, and Nick Rigillo
Before it's here, it's on the Bloomberg Terminal.
LEARN MORE