politics
Macron Spreads Bets Before German Election With Schulz Meeting
By , , and
French president wants to re-shape euro zone economy

German Social Democrats use Macron in anti-austerity fight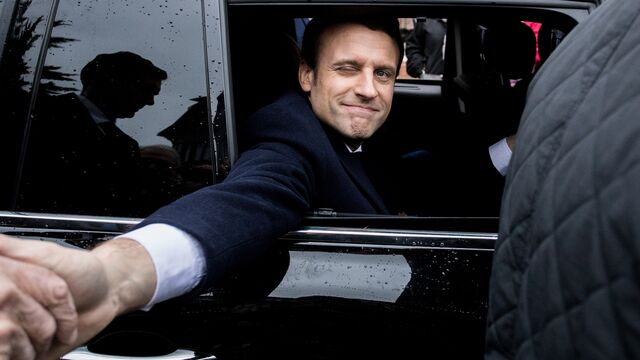 President Emmanuel Macron is seeking to cover all the main angles of Franco-German relations Thursday when he plays host to Martin Schulz, who is trying to unseat Chancellor Angela Merkel in Germany's September election.
After two months of courting Merkel at summits across Europe and one-to-one meetings in their respective capitals, the new French president is meeting with the Social Democrat leader at the Elysee Palace. It will be their first since the 39-year-old Macron swept to power in May.
"It's a smart move," said Holger Schmieding, chief economist at Berenberg in London. "Mr. Schulz may play a role in German politics -- probably not as chancellor, but maybe as vice chancellor in the coming government, so why not talk to him?"
The two politicians are scheduled to meet for about an hour from 7 p.m. in Paris, and Schulz will make a declaration alone afterward. Schulz will also speak to students at SciencesPo at 4:45 p.m.
For Macron, keeping Germany onside is a key to his strategy for remaking the French and European economies. Before becoming president he made repeated visits to Berlin, spending time with academics and opposition politicians as well as those in power.
Airport Greeting
Macron is looking for a shift in economic policy from Germany, partly via a Keynesian boost to domestic demand in the euro area, and partly by re-making the region's institutions to provide better policy in the long run. The euro area had a current-account surplus equivalent to almost 5 percent of economic output in 2016 -- an indication that domestic demand in the region is unusually weak.
During the hectic 2017 election campaign, he made two trips to Berlin, meeting Merkel only on the second. Schulz and his party have sought to embrace Macron as a natural Social Democratic ally. On Macron's maiden journey to Berlin as president, he was greeted at the airport by Sigmar Gabriel -- Merkel's Social Democratic foreign minister -- who edged into position before he met with the German leader who has been in office since 2005.
Schulz and other party comrades have cited Macron as a pro-European who has been critical of Merkel's regime of austerity throughout the bloc's financial crisis.
Three days after Macron offered implicit criticism of Merkel's government for doing too little to bolster domestic demand, Schulz unveiled a position paper calling for more government spending.
'Question of Justice'
"It's also a question of justice among generations not to leave behind a dilapidated country, but rather to invest so that they have the same conditions as we do," Schulz told a crowd at SPD headquarters on Sunday.
Gabriel, Schulz's predecessor as SPD chairman, attempted to frame the debate minutes after the French election results came through on May 7. His message: Macron's ascent must herald the end of Merkel-inspired austerity.
"Whoever takes on reform policies can't at the same time be forced into savings," Gabriel says. "That makes investment and growth impossible and generates not more but fewer jobs. So the era of financial orthodoxy and finger-wagging must come to an end."
A surprise Schulz victory in September would provide an opening for Macron on a European stage that has been dominated by Merkel for the better part of the past decade.
"Schulz would be an easier partner than Merkel," said Bruno Cautres, a professor at SciencesPo. "Merkel is not an effortless partner: she is demanding, she pays close attention to what action he is really taking on spending and on the deficit."
Before it's here, it's on the Bloomberg Terminal.
LEARN MORE