Here's Why Yellen's Fed Cares About America's Opioid Epidemic
By
Fed officials are bringing up America's addiction crisis

Abuse is both an economic symptom and driver of labor problems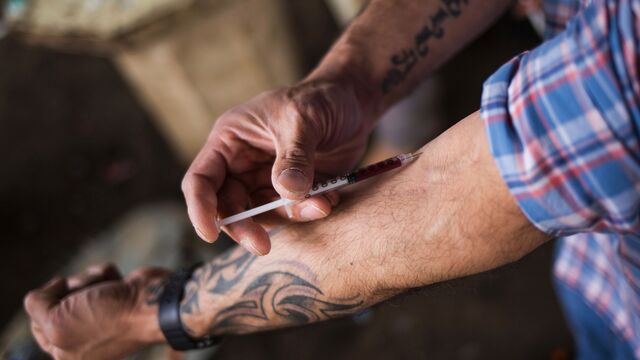 Bill Polacek's industry is dealing with a labor market problem so big, even Federal Reserve Chair Janet Yellen is talking about it.
A few years ago, Polacek interviewed 350 people to fill openings for 50 welders and machinists at his Johnstown, Pennsylvania-based manufacturing company. After narrowing the pool down to 100, he found that half of those candidates either had a criminal record or failed the drug test.
"We weren't attracting the right people," Polacek says of the episode, which prompted him to invest in extensive outreach to local high schools to build up a pipeline of workers.
The type of hard-to-hire Americans Polacek encountered pose a growing problem for many employers, as a deepening opioid crisis plagues American communities just as the jobless rate hovers near a 16-year low. The drug epidemic has caught the Fed's attention. Yellen discussed it at length during Senate testimony last week and regional Fed banks say companies in their areas cite it as a hiring impediment.
Opioid Abusers
The opioid epidemic falls outside of the Fed's traditional macroeconomic purview, yet it matters to the central bank for two reasons. If addiction is rendering people unemployable, it could help to explain why a historically low portion of the prime-age population is working. Second, the Fed has increased its focus on community and workforce development in recent years -- and the opioid crisis is a painful reality dragging on human capital across America.

An estimated 2.7 million adults over the age of 26 were misusing painkillers as of 2015, while another 236,000 currently used heroin, based on test Substance Abuse and Mental Health Administration data. While opioid abusers account for a tiny sliver in a workforce of 160 million, they probably make up a greater share of the 7 million who are unemployed.
"Our district is the epicenter of this crisis," said Kyle Fee, regional community development advisor at the Cleveland Fed, which hosted a policy conference in June that included a panel specifically dedicated to opioids. "It was a good way for us to dip our toe into this topic," he said.
Most economic research on the effects of the opioid crisis comes from academia, rather than Fed researchers, and it shows a two-way relationship between the drugs and the U.S. economy.
Labor Opportunties
Poor labor market opportunities for America's working and middle class seem to have helped fuel opioid addiction. In turn, pill and heroin use can worsen employment chances for addicts, and can lead to criminal records that dim applicants' prospects for years to come.
"I do think it is related to declining labor force participation among prime-age workers," Yellen told Senators last week, when asked about the crisis. "I don't know if it's causal or if it's a symptom of long-running economic maladies that have affected these communities and particularly affected workers who have seen their job opportunities decline."

While regional Fed banks haven't been leading the push when it comes to researching the epidemic, they're increasingly noting its fallout.
Beige Book
"Manufacturing contacts in Louisville and Memphis reported difficulties finding experienced or qualified employees, with some citing candidates' inability to pass drug tests," the St. Louis Fed reported in the July 12 Beige Book, a survey of regional economic conditions. Businesses have also raised the issue as a barrier to finding workers in conversations with Philadelphia Fed President Patrick Harker.
At the Cleveland Fed's summit, talk about the crisis wasn't reserved for the opioid-specific panel: it came up throughout the other sessions, said Mary Helen Petrus, assistant vice president in the Cleveland Fed's Community Development Department.
"It's an economic issue. It has economic implications, but it's a whole lot more than that," Petrus said. "It's cross-cutting."
The Boston Fed published research in September on the link between local economic despair and opioid use in New England. Princeton University economists Anne Case and Angus Deaton suggested in their work on rising middle-age mortality among the white working class that the breakdown of traditional economic and social structures have probably contributed to a step up in overdose, alcoholism and suicide.
"We are seeing, as I mentioned, an increase in death rates -- which is extremely unusual," Yellen said last week. That trend is "partly reflecting opioid use, and it is obviously a very serious and heartbreaking problem."
Before it's here, it's on the Bloomberg Terminal.
LEARN MORE