From the Bottom of India's Caste Hierarchy to the Country's President
By and
Kovind second 'untouchable' Dalit leader to occupy top post

Viewed as 'compliant and suppportive' president for Modi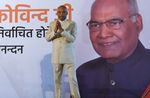 Ram Nath Kovind was elected as president of India, the world's most populous democracy, becoming the second leader from country's 'untouchable' community to occupy the highest post.
Kovind, 71, a former governor, easily defeated Meira Kumar, 72, a former speaker of the lower house of parliament. Both leaders are from Dalit community, who are at the bottom of Hindu's caste hierarchy.
A lawyer from the politically-crucial state of Uttar Pradesh, Kovind was handpicked by Prime Minister Narendra Modi before the presidential polls. He had the backing of the ruling Bharatiya Janata Party-led coalition and regional party Janata Dal (United), which broke ranks with the opposition Congress party-led alliance.
Low-profile Kovind has held organizational positions in the BJP. The two-time former member of parliament was made the governor of eastern state of Bihar after Modi came to power in 2014.
As an advocate, he took the lead in providing free legal aid to less fortunate sections of the society. Kovind, who is close to Rashtriya Swayamsevak Sangh, the ideological arm of the BJP, enjoys a clean reputation.
Kovind's BJP and Kumar's Congress party strategically and symbolically choose these two leaders as presidential candidates to woo India's poorest and most oppressed groups to win elections. K. R. Narayanan was the first Dalit leader to become president for five years from 1997.
Although the role of India's president is largely ceremonial, Kovind's election can still help Modi achieve several political goals, said Eurasia Group analysts Shailesh Kumar and Sasha Riser-Kositsky in a recent note. 
It provides a "compliant and supportive" president in case Modi wants to exercise executive actions, which would require the president's approval, they said.
Anoop Mishra, secretary general of the lower house of Parliament and returning officer for the presidential poll, announced the results in New Delhi Thursday.
Holding India's highest constitutional office, the president is the supreme commander of the armed forces, oversees the creation of a government in the event of a hung parliament and can, in rare circumstances, send some bills back to lawmakers for reconsideration. The next general election is due by early 2019.
Kovind will take over from President Pranab Mukherjee, whose five-year term ends on July 24.
— With assistance by Iain Marlow
Before it's here, it's on the Bloomberg Terminal.
LEARN MORE