Draghi's Last Stretch of QE Bogged Down by Inflation Outlook
By
Officials may not agree on stimulus reduction by Sept. 7

Price gains aren't strong enough to make it a pressing issue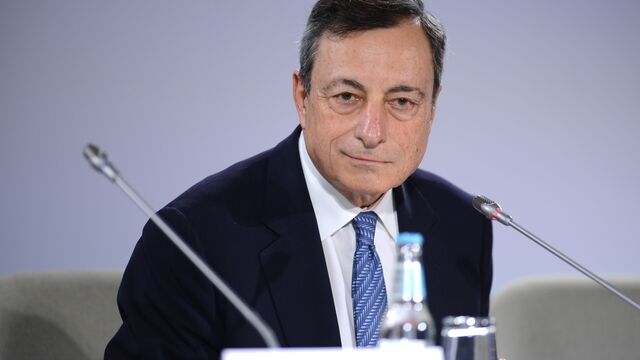 For Mario Draghi, the last mile may feel like the longest one.
After four years of unconventional policy and a recovery that is growing stronger by the day, the European Central Bank president's goal of bringing back inflation ought to be just beyond the horizon. Yet there are few price pressures in sight, and a discussion on rolling back stimulus in September may not yield decisions until October, people familiar with the discussion said.
Interactive Guide: When Will the ECB Pull Its Trillions From the Markets?
During their seven-week break, policy makers will have ample opportunity to ponder whether the region's revival can withstand the removal of central-bank support and fuel rising costs on its own. When Draghi was asked this on Thursday, the answer was clear: "We aren't there yet."

"There is no clear evidence of a pickup in inflation," said Christian Schulz, an economist at Citigroup in London. "Given how slowly these things are moving, this is a problem that is going to be with the ECB for a long time. Patience is going to be a key part of their message."
Delaying a decision on the next step for QE would push it beyond the German election in late September. Draghi will have the chance to set the tone for the discussion at his speech in Jackson Hole, Wyoming, next month.
Policy makers are currently committed to spending 60 billion euros ($70 billion) a month on debt until at least December, and have repeatedly said any winding down must be gradual. Even so, officials differ in their views on what that means for the precise timing and pace of any withdrawal of stimulus.
In his relatively short press conference, Draghi was deliberately vague on timing. While he said the Governing Council would discuss policy changes in "autumn," he refused to be more specific, even when asked whether he considers Sept. 7 to be part of the season. Traditionally autumn starts with the equinox on Sept. 22.
'Robust' Recovery
The stepping stone to a shift in policy was laid down last month when the Governing Council upgraded its assessment of the risks to the economic outlook to "broadly balanced" from tilted to the downside. It also scrapped its expectation that interest rates might be cut again. Draghi reiterated that assessment on Thursday, while stressing the need for caution.
The dearth of price pressures is increasingly puzzling for the central bank in light of the region's "robust" recovery. The disconnect was highlighted in the ECB's third-quarter Survey of Professional Forecasters released on Friday, showing a lower outlook for inflation but also improved prospects for economic expansion through 2019.
Draghi said on Thursday he was confident that, eventually, growth will translate into higher wages and prices as economics textbooks predict, though the global financial crisis and the labor-market reforms that followed it may have weakened this relationship.
The "reflationary forces" cited in his June 27 speech that sparked a bond rally weren't mentioned again. When he was asked about them, Draghi downplayed the significance of his remark, explaining that "you have reflation when the price level has fallen below the trend line and it recovers."
"They want to have their hands free, probably to better keep into account financial conditions in their tapering trajectory," said Marco Valli, an economist at UniCredit in Milan. When it comes, "I expect it to be gradual."
— With assistance by Jana Randow, Piotr Skolimowski, Carolynn Look, Zoe Schneeweiss, Catherine Bosley, and Mark Deen
Before it's here, it's on the Bloomberg Terminal.
LEARN MORE