politics
Venezuelans Paralyze Capital to Oppose a Constitutional Rewrite
By and
Citizens block east Caracas roads; buses halted in south

Many taking measures into their own hands as clock ticks down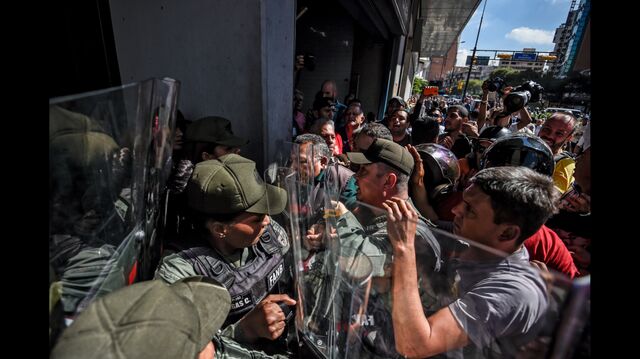 Barricades sprang up around Caracas before dawn Tuesday, bringing the city to a virtual standstill as government opponents protested President Nicolas Maduro's effort to overhaul Venezuela's constitution.
Avenues and thoroughfares across eastern Caracas were shut down after hastily issued calls by student groups, while a public-transportation strike kept buses from, rolling on the south side for a third day. Morning commuters walked to work in many areas, fording piles of trash and debris, or ducking under ropes and wires used to cordon off streets.
The abrupt traffic paralysis came in the face of an assembly Maduro has set for July 30 that would begin reconceiving the crisis-torn nation's charter, an initiative critics say is meant to give him authoritarian power. A coalition of opposition parties have organized more than 100 days of demonstrations that have claimed scores of lives and left hundreds more injured. Now, citizens are taking matters into their own hands as the assembly looms.
"People now are in a mode of 'no return' or doing whatever they want," said Oswaldo Ramirez, director of the Caracas-based ORC consultancy. "This means staying in streets until they obtain their objective."
On Sunday, more than 7.5 million Venezuelans cast votes in an unofficial plebiscite against Maduro's assembly. Emboldened by the turnout, Venezuela's opposition is calling for a 24-hour strike set to start on Thursday. On Friday, the opposition-controlled National Assembly will attempt to appoint its own supreme court justices in a move that could see a parallel government be created.
The stakes have never been higher. While Maduro has shown no signs of backing down, U.S. President Donald Trump promised "swift" actions should he proceed. And the U.S. is poised to impose sanctions on Venezuela's defense minister and several other top officials for human-rights violations, according to people with knowledge of the plan.
— With assistance by Nathan Crooks
Before it's here, it's on the Bloomberg Terminal.
LEARN MORE