politics
Trump Jr., Manafort Asked to Testify July 26 by Senate Panel
By and
Kushner to talk to Intelligence panel behind closed doors

Panel to use subpoenas if witnesses won't appear voluntarily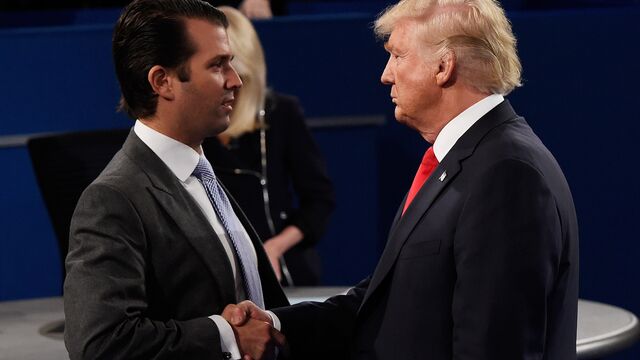 Donald Trump Jr. and Paul Manafort, President Donald Trump's former campaign manager, were asked to testify July 26 before the Senate Judiciary Committee as the panel expands its scrutiny of potential links between the president's associates and Russia.
Two days earlier, Trump's son-in-law and senior adviser Jared Kushner will talk to Senate investigators, said his lawyer Abbe Lowell. He will meet with the Senate Intelligence Committee behind closed doors, according to a person close to Kushner.
The Judiciary hearing comes after revelations of a previously undisclosed meeting last year in which Trump Jr., Manafort and Kushner met with a Russian lawyer from whom Trump Jr. hoped to get incriminating information about Hillary Clinton. The committee is investigating Russian influence in the 2016 election, as well as Manafort's lobbying and business ties.
The Judiciary Committee said in an emailed statement that it expects the witnesses will agree to testify. If they don't, Chairman Chuck Grassley of Iowa and top Democrat Dianne Feinstein of California have agreed to issue subpoenas for Manafort and Trump Jr., the committee said.
The panel requested a wide range of documents by Aug. 2 from Trump Jr., Manafort, the Trump campaign, and Trump's private business regarding efforts to meet with Russians, obtain information about Clinton and potentially coordinate with Russian meddling in the election.
Vladimir Putin
The Judiciary Committee wants any record of interactions before and after last year's meeting with Russians. It also goes far broader, seeking records relating to dozens of other people including Russian President Vladimir Putin, numerous other Russians, and even Green Party candidate Jill Stein.
The requests show that the panel is embarking on a broad investigation that could go deep into Trump's campaign and the White House, joining the already well-established Senate Intelligence investigation and an independent probe by special counsel Robert Mueller.
Trump Jr. released emails last week showing that British publicist Rob Goldstone proposed the meeting with the Russian lawyer, promising "information that would incriminate Hillary" that is "part of Russia and its government's support for Mr. Trump."
The president has repeatedly denied that members of his campaign team colluded with Russia in last year's election. U.S. intelligence agencies said they have evidence Russia was behind a sophisticated effort to tilt the election in Trump's favor.
Trump 'Dossier'
The Judiciary Committee also sought testimony from Glenn Simpson of Fusion GPS, a company the committee said was reported to have commissioned a "dossier" on Trump. The 35-page document included unverified, salacious allegations about Trump. The committee said Simpson also would be subpoenaed if he didn't testify voluntarily.
Manafort spokesman Jason Maloni said Manafort and his lawyers are reviewing a committee letter and wouldn't comment further.
Senator Richard Blumenthal, a Connecticut Democrat on the Judiciary panel, said in a statement that the hearing should be "comprehensive in scope with all documents necessary for full informed questions." He said it should be "only a first step towards a full and fair investigation."
In June, Manafort retroactively filed a registration document with the U.S. government saying he received $17.1 million for his work with a Ukrainian political party.
He registered with the U.S. Justice Department under the Foreign Agents Registration Act, which requires people to disclose any political or quasi-political work they do for foreign entities. Manafort's filing covered his work on behalf of Ukraine's pro-Russian Party of Regions between 2012 and 2013.
The New York Times reported Wednesday that financial records filed in Cyprus last year indicate that Manafort had been in debt to pro-Russia interests by as much as $17 million before he joined Trump's presidential campaign in March 2016.
(
Updates with Simpson testimony sought in eighth paragraph.
)
Before it's here, it's on the Bloomberg Terminal.
LEARN MORE