charted
The World's Most Expensive Taxis
Going anywhere in Zurich? You might want to walk.
By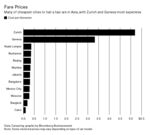 Hailing a cab in Switzerland costs more than in many other places, while Asia costs a lot less, with Bangkok the cheapest city in the region, according to a survey by online used-car dealership Carspring. Of the 80 cities in the survey, Cairo, at 10 U.S. cents a kilometer, was the cheapest and Zurich, at $5.19, the most expensive.
Before it's here, it's on the Bloomberg Terminal.
LEARN MORE