Your Evening Briefing
Bloomberg News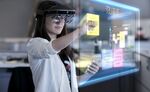 You arrive at work and find your office stripped virtually bare. Gone are the cubicles, the computers, the chairs, the telephones. In their place are thin, white tables, each adorned with only a headset. Welcome to the office of the future, Meta-style. The San Francisco-based start-up's CEO, Meron Gribetz, sees the future through augmented eyes, as a series of holograms overlaid on reality, which co-workers can huddle around to collaborate on pretty much any kind of task. Sounds far-fetched? Well, people have faith. Last year, Meta raised $50 million from investors like Lenovo and Tencent. Get ready to clear your desk.
This currency is missile-proof. After three years of losses against the dollar, South Korea's won didn't begin 2017 looking like a winner — with the U.S. raising interest rates and tensions rising with its nuclear-armed neighbor. Just over half-way through the year, however, the currency is up 7.5 percent against the dollar, making it the top performer in Asia. It barely even blinked after North Korea said on July 4 it had fired an intercontinental ballistic missile for the first time.
Here's a window into how Xi Jinping has reshaped China.  For an idea of how China's president has built his all-powerful image over the last five years you need to look no further than the Communist Party's self-described mouthpiece People's Daily. Xi's name, policies and slogans have come to dominate its pages. In the first half of this year alone his name was mentioned in 2,092 articles, exceeding the number of mentions of his predecessor Hu Jintao during his entire last year in power.
Another participant at the Trump Jr. meeting has long Russia ties. He once helped Russians and other Eastern Europeans move $1.4 billion through U.S. banks and, federal authorities claimed, set up more than 2,000 shell companies for anonymous Russian brokers. Now Ike Kaveladze has been named as the eighth person at a meeting between Donald Trump Jr. and a Russian lawyer that was set up on the pretext of providing incriminating information about the President's political opponent, Hillary Clinton.
WhatsApp suffers at the hands of China's censors. The messaging service, owned by Facebook, has been partially blocked in the country amid a censorship crackdown by the government. Multiple users in China have reported intermittent outages since Monday night. The app isn't widely used in China but it's preferred by some because it's deemed to be less closely monitored than its rival WeChat, which is unencrypted and highly censored. 
The crypto coin market is a ticking time bomb. Initial coin offerings, a means of crowdfunding for blockchain-technology companies, have caught so much attention that even the co-founder of the ethereum network, where many of these digital coins are built, says it's time for things to cool down in a big way. 
Why you should never eat food on planes.  Melissa Biggs Bradley is the founder of luxury travel firm Indagare. The membership-based travel club is the secret weapon of 1 Percenters, known for planning and arranging near-impossible trips from chartering planes and yachts to overnights at billionaires' private islands. These are her tips.
You don't need to go full vegan to reap the benefits. The wrong kind of exclusively plant-based diet can actually increase the risk of coronary heart disease, according to a new study from Harvard University. On the other hand, reducing your intake of animal products while boosting your consumption of fruits, vegetables, and whole grains, and continuing to indulge modestly in animal foods, can do you nearly as much good as a healthy vegan diet. In other words, veganism alone may not help you and could hurt you.

Before it's here, it's on the Bloomberg Terminal.
LEARN MORE