Summer's Most Common Hedge Fund Theme Is the Global Recovery
By
Hedge fund positions more neutral ahead of summer: Lyxor AM

CTA funds long equities, global macro long Europe over U.S.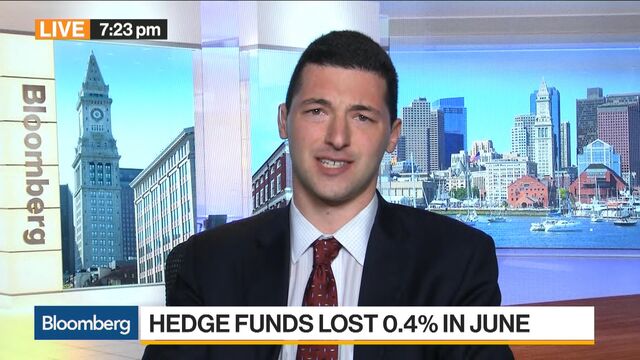 Investors positioned for the global recovery are in good company: it's the most common bullish investment theme for hedge funds this summer, according to Lyxor Asset Management.
As interest in hedge funds rises again -- they saw the biggest jump in demand among asset classes examined in a Credit Suisse Group AG report last week -- Lyxor strategists including Jean-Baptiste Berthon set out current investment trends in a recent note.

Fund positions are "somewhat more neutral" ahead of the summer, they said, in particular to themes such as Chinese stability and a tightening Federal Reserve. However, different hedge fund types show a range of sensitivities to other market motifs such as recovering oil prices, U.S. reflation and increasing global inflation.
Here's a summary of the positions of four types of hedge funds, according to Lyxor:
Macro Funds
Arbitraging Europe versus the U.S. using long equity, short bond positions
Using short euro positions as a hedge, recently turned net long U.S. dollar
Long energy and agricultural contracts
CTA Funds (managed futures)
Remain structurally long equities in most regions, rebuilding bond exposures especially in Europe
Short U.S. dollar, mainly against non-Group-of-10 currencies
Short energy and agricultural contracts
Long/Short Equity Funds
U.S. funds increasingly sector-balanced though long financials
European funds reduced long financial positions, rotating toward communication, industrial stocks
Event-Driven Funds
Substantially reduced overall net exposure through taking profits in healthcare, tech
Remain balanced between cyclical and defensive sectors
Before it's here, it's on the Bloomberg Terminal.
LEARN MORE