Shkreli Trial on Hiatus After Disagreement on Evidence Admission
By and
Defense attorneys object to jury seeing investor agreements

Jury to return Friday after parties make submissions to judge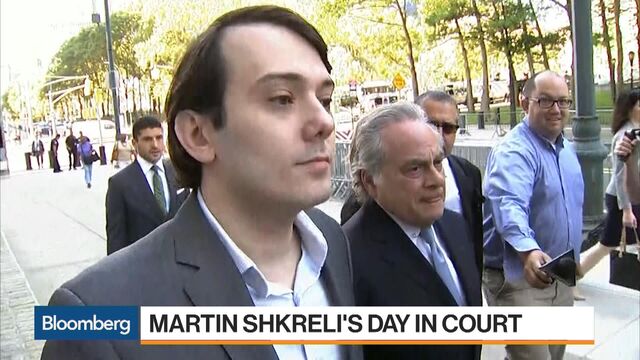 Martin Shkreli's fraud trial is on hold until later this week after his attorneys objected to attempts by prosecutors to introduce agreements with a handful of investors who haven't been called to testify, saying that the move would deprive them of the right to confront the witnesses.
The jury in federal court in Brooklyn, New York, was dismissed Wednesday afternoon after prosecutors asked U.S. District Judge Kiyo Matsumoto to allow the consulting and subscription agreements to be entered into evidence, saying they would show how Shkreli made deals to repay investors in his hedge funds.
"We are stomping on solid grounds with regards to the law to proving a fraudulent scheme," said Assistant U.S. Attorney Jacquelyn Kasulis.
Shkreli's lawyer, Benjamin Brafman, argued that allowing the agreements to be shown to jurors without the investors taking the witness stand would deprive Shkreli of his right to question them.
"They're not making the decision to what the jury can and can't hear," Brafman said.
Why Shkreli's on Trial When Investors Didn't Lose: QuickTake Q&A
Shkreli, 34, is accused of operating Retrophin Inc. and his hedge funds as Ponzi schemes. Prosecutors say after the funds imploded in 2011, Shkreli took investors' money without their permission to start Retrophin, and later used $11 million from the drug company without shareholder approval to repay the funds' investors. He faces as long as 20 years in prison if convicted.
The dispute followed the testimony of Lee Yaffe, a business associate of Shkreli's who convinced his father to invest $100,000 in Shkreli's first hedge fund, Elea Capital, and spent five years trying to get the money back. Yaffe testified he was paid $200,000 to be a consultant for Retrophin but never actually provided any services - and eventually had to pay the money back after reaching an agreement with the government not to prosecute him.
Prosecutors claim Shkreli entered into the deals with fewer than 10 investors, including Allergan Plc CEO Brent Saunders, after losing money in two hedge funds he ran before starting Retrophin. Allergan spokesman Mark Marmur didn't immediately respond to a request for comment.
The judge sent jurors home, telling them to return early on Friday afternoon, so the parties can argue their positions on the dispute. She said she was "very uncomfortable" allowing prosecutors to introduce the agreements without calling the witnesses to the stand for cross-examination.
"We should hear from them, especially if their representations are critical to issues being decided," Matsumoto said.
The case is U.S. v. Shkreli, 15-cr-0637, U.S. District Court, Eastern District of New York (Brooklyn).
Before it's here, it's on the Bloomberg Terminal.
LEARN MORE