politics
Russian Lawyer Who Met Trump Jr. Says She's Ready to Testify
By
Veselnitskaya says she'd speak to Senate if her safety assured

She denies acting for Russian authorities at Trump meeting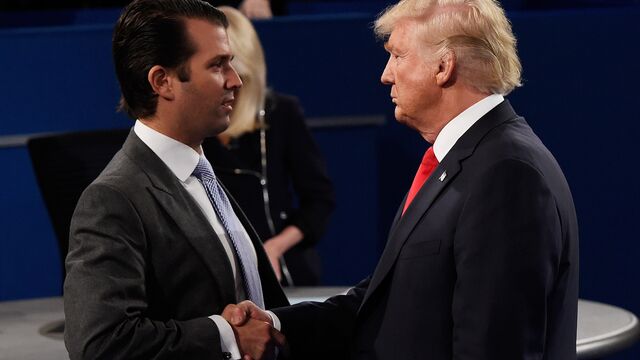 The Russian lawyer at the center of controversy over a meeting with U.S. President Donald Trump's son offered to testify in the Senate about the encounter that was set up on the pretext of providing incriminating information about Democratic contender Hillary Clinton.
"I'm ready to clarify the situation behind this mass hysteria only through legal means -- either through lawyers or testifying in the Senate," Natalia Veselnitskaya said in an interview to Russian state-funded TV channel RT broadcast on Wednesday. She said she'd do so provided her safety was assured because "I have to think first of all about my security and that of my family."
Veselnitskaya denied she acted on behalf of Russian authorities at the meeting in June last year with Donald Trump Jr., which was also attended by senior members of Trump's presidential campaign team. She said her visit to Trump Tower in New York was a "private request of a private person" to try to counter lobbying in Congress by hedge fund manager William Browder, who pressed for the 2012 Magnitsky Act, a U.S. law that penalized 18 Russians as rights-abusers.
According to emails released by Donald Trump Jr., British publicist Rob Goldstone proposed the meeting, promising "information that would incriminate Hillary" that is "part of Russia and its government's support for Mr. Trump." Paul Manafort, who was then the Trump presidential campaign manager, and Trump's son-in-law, Jared Kushner, who's now a senior adviser in the White House, also attended the meeting.
Trump has repeatedly denied that members of his campaign team colluded with Russia in last year's election. U.S. intelligence agencies said they have evidence Russia was behind a sophisticated effort to tilt the election in Trump's favor. 
"If the Senate wishes to hear the real story, I will be happy to speak up and share everything I wanted to tell Mr. Trump," Veselnitskaya said.
Before it's here, it's on the Bloomberg Terminal.
LEARN MORE