Struggling Kenyans Headache for Kenyatta as Elections Approach
By
High cost of living, hunger, unemployment are main issues

U.S. pollster says Odinga leads Kenyatta with 47.4 percent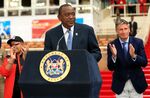 About two-thirds of Kenyans say they're worse off economically, expressing concerns that should "worry" President Uhuru Kenyatta as he seeks re-election in a vote in three weeks, pollsters Ipsos and U.S-based John Zogby said.
Almost half of the population cite the cost of living and hunger as the most serious problems they grapple with daily, followed by unemployment, Nairobi-based Ipsos said in an opinion poll published on Wednesday. The survey found that voters in the western Nyanza region, an opposition stronghold, are the most aggrieved about the high cost of basic necessities, while residents of eastern counties complained mainly of hunger.
"To the extent that Kenyans seize the opportunity of an election to register their satisfaction or distress with regard to their everyday conditions, those seeking popular support will ignore the kinds of findings presented above at their peril," Ipsos said.
Current economic conditions and corruption weigh on Kenyatta's chances of re-election, said Zogby, who conducted an opinion poll on behalf of the opposition National Super Alliance. About 56 percent of Kenyans are concerned about unemployment, while more than 70 percent think corruption has worsened during the past four years, Zogby said in an emailed statement. About 88 percent of 2,983 Kenyans surveyed link corruption to difficulties they experience in daily life, and a similar number cite expensive living among their challenges.
"If I were the president, I'd be worried," Zogby said. "No poll is perfect, but for those who find it convenient to dismiss these results, they are engaging in wishful thinking."
A drought that's spanned three harvests has cut farm output in Kenya, leading to shortages of foods including the staple corn, sugar and milk. That's driven the inflation rate to the highest level in five years, squeezing families in an economy where almost half of the population survives on less than $2 a day.
The government said in May it planned to spend 6 billion shillings ($58 million) subsidizing corn prices that have surged because of the deficit. Half of the 2,209 people surveyed by Ipsos said they hadn't seen any change in prices.
Popularity Risk
Corn remains the preferred food in Kenya and the government's popularity "is likely to suffer if the constant demand for it remains unsatisfied," Ipsos said.
Kenyatta is seeking re-election in the Aug. 8 vote in a race against opposition leader and former Prime Minister Raila Odinga. Kenyatta would get 49 percent of the ballots cast if elections were held today, compared with 44 percent for Odinga, the Nairobi-based Star newspaper reported Wednesday, citing a poll by its parent company, Radio Africa Group.
About 47.4 percent of Kenyans prefer Odinga as president, compared with 46.7 percent that want Kenyatta, Zogby said in the statement, ahead of his poll's release later Wednesday.
While Kenyan voters usually choose leaders from their own ethnic community, they could seize the opportunity to register satisfaction or distress with "their everyday conditions" at the ballot box, Ipsos said.
Before it's here, it's on the Bloomberg Terminal.
LEARN MORE