Macron's France Surpasses U.S. Under Trump in 'Soft Power' Study
By
Annual USC study sees France jumping over U.K., U.S.

U.S. slide due to Trump; still tops for education, culture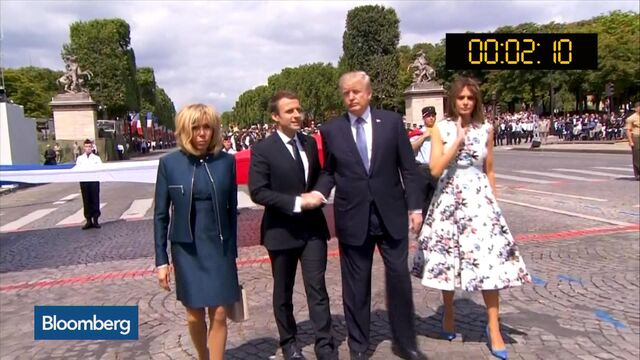 Donald Trump clearly enjoyed watching the French tanks and planes go by at last week's Bastille Day parade alongside Emmanuel Macron, but it's France's ability to wield influence off the battlefield that helps it surpass the U.S., according to a ranking of international clout.
Since their respective elections, France's international engagement and Macron's popularity have helped France jump to first from fifth place in an annual ranking of "soft power" released Tuesday. The U.S. slid to third from first, while Britain held on to second place.
"France's soft power has no doubt seen a boost with the defeat of the National Front and the election of its youngest-ever president," said the annual report by the University of Southern California and Portland Communications. "Elected on a pro-Europe platform of reform, the president is riding a wave of both domestic and international popularity."
The annual study, now in its third year, looks at a variety of factors including the extent of the country's diplomacy network, its engagement with international organizations, the appeal of its educational institutions, its cultural and culinary attractions, its appeal to business, its digital footprint and public perceptions. It was that final factor that sunk the U.S. ratings, the study said.
The U.S. remains "unrivaled in higher education, cultural production, and technological innovation," according to the study, and yet "President Trump's often divisive rhetoric has led to a sharp decline in America's performance in international polling."
For all the hardware on display at the annual July 14 Bastille Day parade, the U.S. is also unrivaled in hard power. Once the U.K. leaves the European Union, France will be the bloc's top military power by far, but its defense budget is just under one-tenth the U.S.'s, it has one aircraft carrier to the U.S.'s 10, and one-twentieth the number of nuclear warheads.
Germany, Canada, Japan, Switzerland, Australia, Sweden and the Netherlands round out the top 10 in the soft-power study.
Before it's here, it's on the Bloomberg Terminal.
LEARN MORE