Politics
Macron's First Big Test Comes From His Own Military
Top general resigns in a dispute over budget cuts.
By and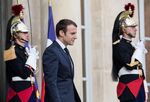 Many have been expecting French President Emmanuel Macron's ambitious reform plans to crash into reality. Few anticipated the initial resistance to come from his top military commander.
Following a public dispute with Macron over cuts to the defense budget, General Pierre de Villiers, chief of the general staff, said Wednesday that he "no longer feels capable of assuring the continuation of the military model" needed to protect France.

It's the first time that a head of the French armed forces has resigned since Charles de Gaulle remade the constitution in 1958, and a significant challenge to Macron's authority just two months after taking office. The newspaper Le Monde called it a "moment of truth" for France's 39-year-old president.
"It sends a negative signal and shows dissent at the helm of the state," said Christelle Craplet, a pollster at BVA institute in Paris. "Macron is at a crucial moment: the end of the political honeymoon with voters and the beginning of the reality."
French voters took a chance on Macron, a former banker who was not aligned with either major party and who had never held — or run for — elective office. He campaigned on a promise to trim the bloated public sector; remake the pension system to reduce the number of privileged categories of workers; and loosen labor markets to make firing easier to encourage hiring.
He won an enthusiastic endorsement this week from the International Monetary Fund. Yet history doesn't give much reason for optimism. Predecessors like former President Nicolas Sarkozy were forced to water down or abandon similar plans in the face of mass strikes and street protests. France hasn't balanced a budget since 1974. Government spending accounts for 56 percent of the economy, tied with Finland as the most in Europe.
A government spokesman responded to the news by stressing the need for France to get control of its finances. Faced with a 2017 deficit that was overshooting targets agreed with the European Union, Macron imposed spending cuts of 4.5 billion euros ($5.1 billion) across all ministries, of which 850 million euros will come from the military, mostly by postponing equipment purchases.
Prime Minister Edouard Philippe said last week that military spending will resume rising in 2018, reaching 34.2 billion euros from 32.7 billion euros this year. The government has said its goal is 50 billion euros by 2025, or 2 percent of economic output. French troops are deployed throughout the Sahel region of Africa to fight Islamist guerrillas and the country's warplanes and special forces are involved with the U.S.-led coalition against Islamic State in Iraq and Syria.
The armed forces' clash with their boss underscored Macron's status as the first French president to have never served in the army or done mandatory military service. The draft was scrapped in the 1990s.
"What matters now is how Macron manages the crisis — whether he can keep it as an isolated incident or if it spills over and becomes a political crisis," Craplet said. "Voters are more sensitive to what matters to their lives and a military spat isn't at the core of their concerns but Macron should be careful of the snowball effect."
Francois Heisbourg, a French security analyst who chairs the London-based Institute for International Strategic Studies, described the resignation as unusual and worrying, reflecting a cultural gap between a stressed military and the rookie president.
"Macron is very intelligent. He knows the figures and he knows the issues, but he hasn't really had the opportunity yet to understand the eco system," said Heisbourg. "That is something you only get with experience."
Macron's approval rating fell 5 points to 54 percent in July, according to a monthly poll by BVA for Orange and La Tribune published Tuesday. Respondents with a poor opinion of Macron cite his arrogance, authoritarianism, disregard for the working classes and excessive attention to his own image.
De Villiers said in an opinion piece in last Friday's Figaro newspaper that there's a "strong tension" between overseas military operations and "a complicated budget situation," and that "this gap is not sustainable."  According to French media reports, de Villiers was more outspoken at a closed door testimony July 12 to members of parliament, and since last week news reports had suggested he could resign.
His resignation over a point of budgetary principle is rare for any Western military. "The only parallel I can think of was here in the U.K., when the government announced its decision to cancel our aircraft carrier program in 1966, and the chief of naval staff, Admiral Sir David Luce resigned," said Malcolm Chalmers, deputy director general of the Royal United Services Institute, a London think tank.
Military brass tend to be reluctant to deliver any kind of ultimatum on policy issues because they accept the broad division of responsibilities between civilians who set policies and the military officers who execute them, Chalmers said.
Before it's here, it's on the Bloomberg Terminal.
LEARN MORE