markets
London's Home Price Growth Has Flatlined. What Happens Next?
By
Values in London fell in May for the second consecutive month

London market most impacted by Brexit and higher sales taxes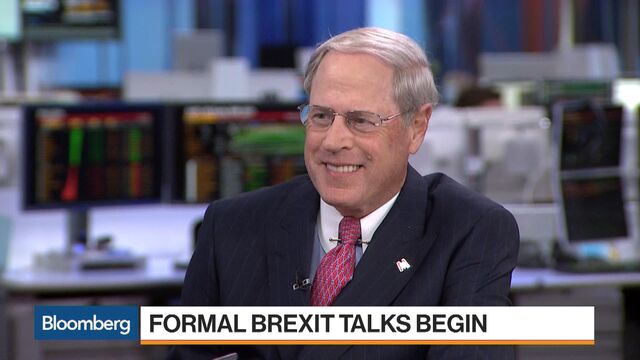 The eight-year bull run for London home values appears to be finally coming to an end.
Values fell 0.5 percent in May from April, according to the LSL Acadata Home Price Index, and will show little or no growth this year, broker Savills Plc forecasts. PricewaterhouseCoopers LLP predicts that price growth will continue to slow in 2018 and 2019 as economic uncertainty and increased stamp duty taxes damp demand.
Bloomberg News asked seven market commentators to predict what they see happening next in London's 1.6 trillion-pound ($2.1 trillion) housing market.

Value Falls
Paul Cheshire, professor of economic geography at The London School of Economics and Political Science:
"The turning point is just being reached. Housing prices have continued to rise relative to incomes and the affordability ratio is now at an all-time low. Real incomes are falling as the weakness in the pound feeds through to higher inflation. The ability to raise wages isn't there and Brexit is making everything more uncertain and worse. London is the epicenter of the U.K. housing market and changes in prices there tend to ripple out. I'm expecting a sharp correction in housing, more on the level of the 1990 crash. I don't expect negative equity to be as big of a problem as it was then, and interest rates may rise but will still remain low by the standards of the early 1990s."
NOTE: Home values fell about 32 percent in London from 1989 through 1992, according to data compiled by Nationwide.
David Adams, Mayfair-based director at broker Humberts:
"Prime central London has seen a collapse in the volume of sales of more than 50 percent from a normal market, accompanied by a 15 to 20 percent price correction to property prices. Volume and value adjustments always flow outwards in London. The Conservative Party may have believed that by reducing stamp duty for properties below 920,000 pounds ($1.2 million) and increasing it above that line, they could slow the first-class carriage at the front of train without impacting on the speed of the following carriages. Instead, a transaction collapse is now occurring in outer London mid-market properties, with sales volumes some 30 to 40 percent down on normal levels, so it is not hard to see a 10 percent price adjustment occurring next. This is not significant as it only takes values back to where they were a couple of years ago."

Lower Sales
Lucian Cook, head of residential research at Savills:
"London house prices look to be coming toward the end of a long bull run, having significantly outperformed the rest of the U.K. for over 10 years, but a correction is not expected.  High pricing means that mainstream-market buyers are hitting up against the constraints of who can borrow, how much they can borrow and where they can buy. That means the market is more exposed to changes in sentiment than the rest of the U.K. It also means when interest rates rise, they will have a greater impact on affordability. But with any rate rise expected to be gradual, we do not expect any significant downward pressure on prices. For now it looks like we revert to more of a lower transaction needs-based market."
Neal Hudson, founder of researcher Residential Analysts:
"The most likely outcome is that prices remain high with minimal growth over the next couple of years but with much lower turnover. That means fewer buyers due to stretched affordability but also fewer sellers as homeowners can happily sit tight due to low mortgage rates. That said, there are growing downside risks: London is most exposed to any rise in rates which would most affect boroughs with large numbers of recent first-time buyers. Meanwhile the oversupply of top-end new build and any job losses due to Brexit may exacerbate any falls in prices and rents in more central boroughs."
Little Change in Values
Simon Rubinsohn, chief economist at the Royal Institution of Chartered Surveyors:
"The latest RICS indicators provide little reason for believing that the softer trend in sales activity across the capital, which has been visible since the spring of last year, will reverse anytime soon. New buyer inquiries have lost some of the momentum that was visible previously, with any number of factors being highlighted by respondents to our monthly survey as contributing to this trend including stretched affordability, a more challenging tax regime, lack of choice, political uncertainty and, now, concerns about the outlook for interest rates. For a while, the more subdued tone was primarily concentrated in our higher-end market metrics but it does now appear to have spread to the wider market. This is also being reflected in more modest gains in house-price inflation and, if our key forward-looking indicators are anything to go by, all bar the most affordable parts of London could see prices flatline over the coming months. Indeed, there is a possibility that some locations in the capital will see modest price falls following a period of very strong gains."





Fionnuala Earley, residential research director at Hamptons International:
"London's housing market has outperformed the rest of the U.K. since 2010, but times are changing. Inevitably, expectations for future house-price growth in the capital have adjusted after rapid house price growth eroded affordability, stamp duty on more expensive property rose and landlord economics worsened. Prime London saw big price adjustments in response to higher stamp duty in 2015, and the threat of a glut of luxury flats hitting the market has affected price dynamics, but that is now adjusting to more normal price growth. In wider London, reports of big falls this year seem very wide of the mark. We expect an adjustment of the order of 1 to 2 percent as affordability and expectations take their toll, but in a market where supply is still a big issue a larger fall in price seems unlikely."
Raj Badiani, economics director at IHS Markit:
"The London housing market, characterized by excessively high house-price-to-earnings, is at risk from the pressures enveloping the U.K.'s main economic hub. The soft center is pessimistic and consumers are experiencing falling real incomes, while being over-leveraged at a time of low ability to save. Furthermore, the capital's real-estate sector could be hit by the faltering economy triggering tighter mortgage lending parameters. Fortunately, several factors should provide a safety net to limit the downside for house prices, and they include a limited supply of properties for sale, while marginal mortgage rates and record-high employment should deliver steady inflow of new buyers."
— With assistance by Jon Menon
Before it's here, it's on the Bloomberg Terminal.
LEARN MORE