politics
House Tax Chief Open to Ending 3.8% Obamacare Levy in Tax Bill
By
Brady says he'll look at repealing 'anti-growth' investor tax

Ryan previously said Obamacare taxes would stay with Obamacare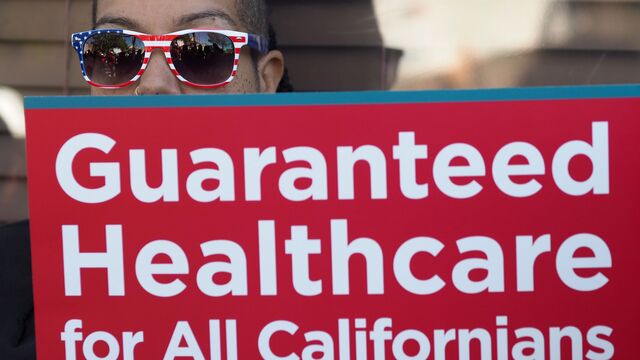 House Ways and Means Chairman Kevin Brady said he's open to repealing an Obamacare levy that affects top earners as part of a tax overhaul if efforts to repeal the 2010 health-care law fail.
Brady had previously said eliminating the 3.8 percent tax on net investment income for individuals earning more than $200,000 or couples above $250,000 would be part of health-care legislation, not a tax bill. But during an interview with Reuters on Wednesday, Brady signaled he would consider including its repeal in the GOP's rewrite of the tax code.
"Will we look at the net investment income tax provision? Yes, mainly because it is incredibly anti-growth the way it is today," Brady, a Texas Republican, said during the interview.
The Affordable Care Act, more commonly known as Obamacare, imposed the investment-income tax along with a 0.9 percent Medicare surtax on wages above the $200,000 and $250,000 thresholds. Efforts to scrap both levies were dropped from Senate draft legislation to repeal Obamacare after some Republican senators questioned the move. Regardless, the Senate legislation lacks the support to pass the chamber, as does a repeal-only bill that GOP leaders plan to hold a vote on next week.
Ending the 3.8 percent tax is estimated to cost $172 billion in revenue over a decade, which could complicate tax-overhaul efforts. That's because Republicans would have to find additional revenue raisers to offset the loss of that tax revenue, or be forced to accept shallower tax rate cuts. Repealing all of the Obamacare taxes has been estimated to cost as much as $1 trillion over a decade. Under the congressional budget rules that Republicans plan to use to approve their tax legislation, any changes that would add to the federal deficit after 10 years would have to be temporary.
During the Reuters interview, Brady said it's "not necessarily" the case that the 3.8 percent levy would be repealed in a tax package, according to a transcript provided by his office.
"We didn't ever imagine having to import the trillion dollars of health-care taxes in tax reform. Mainly because it's very difficult to do," Brady said.
House Speaker Paul Ryan has also indicated openness to repealing the investment tax as part of a tax overhaul, since it's a tax on capital income. Previously, Ryan had said: "Obamacare taxes will stay with Obamacare."
With the health-care debate still unresolved, Senate Republicans don't appear to have made a decision on whether to deal with Obamacare taxes in any future tax legislation. A spokeswoman for the tax-writing Senate Finance Committee declined to comment.
Before it's here, it's on the Bloomberg Terminal.
LEARN MORE