GM Wins Another Ignition Switch Trial
By
The case was one of six chosen for test trials in New York

GM has paid more than $1 billion to resolve suits and a probe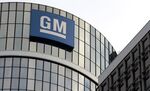 General Motors Co. won another federal trial over faulty ignition switches installed in millions of vehicles before a 2014 recall, suggesting juries have a high standard for evidence in linking specific accidents to the deadly flaw.
A jury in Manhattan on Wednesday determined the switch wasn't to blame for the 2014 crash of an Arizona man's 2009 Chevrolet HHR station wagon. The verdict is a key public-relations victory for the biggest U.S. automaker after it paid more than $1 billion to settle related claims and a criminal probe.
"The result underlines the fact that each case must be tried on its own merits," GM spokesman David Caldwell said in a statement.
Dennis Ward said he suffered permanent leg damage after his car suddenly lost power, preventing him from braking or steering out of the way when heavy traffic caused a vehicle to stop in front of him. Thousands of drivers have alleged in similar cases that their ignition switches slipped into the wrong position while their cars were in motion, cutting power and sometimes causing deadly crashes.
But the evidence presented at trial over seven days in New York showed Ward never mentioned steering or braking problems to the driver he had crashed into when they spoke immediately after the wreck or to police hours later. Instead, Ward indicated on a police report that the crash was his fault and offered to pay for any damage to the other car.
Drag Races
The evidence also showed that Ward, who testified at the trial, continued to drive the car after GM sent out a recall notice in March 2014. He also continued to drive the vehicle after the wreck, including in drag races.
Despite the lack of evidence linking the switch flaw to the crash, Ward's suit was chosen for one of six so-called bellwether trials to guide the parties in resolving similar cases. He attended the trial using a cane to walk.
"We believed in our case and we still believe in it, but we respect the jury's verdict," plaintiff's attorney Nicholas Wise said after the trial. His partner James Bilsborrow added that Ward didn't say anything to police about the steering and braking failure because he was in pain from the crash. "The one thing he was definitively saying was, 'Get me to the hospital.'"
In many cases, the flaw resulted in the ignition switch being shifted off by heavy sets of keys or from being jostled by a driver's knee. In Ward's case, there was no evidence showing the switch had been jostled into an off position before the crash, and it wasn't examined immediately after the wreck.
U.S. District Judge Jesse Furman, who has had as many as 3,000 ignition switch cases assigned to his court, took the unusual step of encouraging the jurors to speak to lawyers for both sides about the strengths and weaknesses of the trial.
Five Bellwethers
Of the five earlier bellwethers in New York, GM won one and the plaintiff voluntarily dropped another in the middle of a trial. Three other cases settled. Two other bellwethers took place in Texas, with GM winning one by jury verdict and another when a judge dismissed it.
GM still faces hundreds more claims in federal and state courts stemming from its 2014 recall of millions of cars in the U.S. with faulty switches. The devices in the initial recall were linked to more than 100 deaths, with GM paying at least $870 million to settle claims and an additional $900 million to the Department of Justice to resolve a criminal probe.
The case is In Re: General Motors Ignition Switch Litigation, 14-MD-2543, U.S. District Court, Southern District of New York (Manhattan).
Before it's here, it's on the Bloomberg Terminal.
LEARN MORE