Draghi Moves On From Sintra as ECB Refines Stimulus Message
By
Speculation on stimulus reduction has boosted euro and yields

ECB president will brief media at at 2:30 p.m. in Frankfurt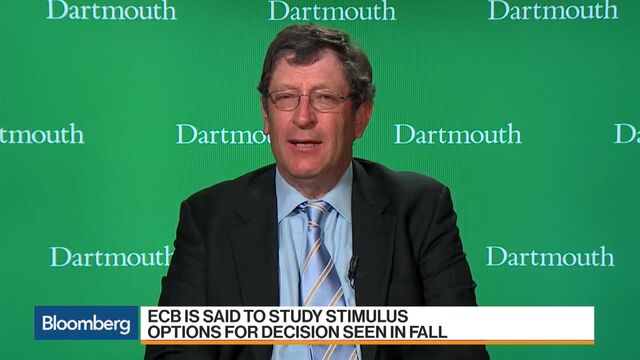 Three weeks after convulsing markets, Mario Draghi is about to try to give the euro area's economic prospects some nuance.
When the European Central Bank president speaks to reporters on Thursday after the Governing Council sets policy, he'll have to balance optimism over the revival against a desire to move as slowly as possible when removing monetary stimulus.
See our live blog on the ECB's policy decision and Draghi's briefing
Sound too upbeat, and traders may get ahead of him by pushing bond yields too high. Appear too dour, and he'll have to readjust expectations if policy makers want to announce any changes at the next meeting in September.
The ECB will announce its interest rates and asset-purchase target at 1:45 p.m. Frankfurt time. Economists surveyed by Bloomberg expect no change in those instruments, and are split on whether the central bank will drop its pledge to increase the size and/or duration of quantitative easing if needed. Beyond that, the focus is on what Draghi has to say when he speaks 45 minutes later.
Set a reminder to watch Draghi's press conference live
The press conference should reveal whether officials held formal talks for the first time on winding down QE, which is scheduled to run until the end of this year. That key step has so far been put off amid concerns it'll spark unwarranted market tightening that disrupts the slow journey back to price stability.
Those worries were reinforced on June 27, when bond yields and the euro surged after Draghi used a speech in Sintra, Portugal, to say renewed reflationary forces may provide room for "adjusting the parameters" of current stimulus while keeping the level of accommodation broadly unchanged.

On a trade-weighted basis, the single currency is now near the highest level since the end of 2014, just before QE was announced. While that partly reflects the region's recovery, the pace of the gain might worry officials because it undermines inflation by curbing import prices.
Against its U.S. counterpart, the euro was little changed at $1.1511 at 12:46 p.m. Frankfurt time. That's just below the 14-month high reached earlier this week.
The ECB doesn't have a policy target for the exchange rate, but Draghi has still stepped in before. In May 2014, he said the strengthening then was cause for "serious concern." That sparked a tumble in the currency.
The fact that consumer prices aren't picking up alongside growth is a prime issue for the Governing Council, and another reason for caution on Thursday. Inflation expectations have failed to recover much after sliding at the start of this year, and a measure of domestically-generated inflation calculated by Bloomberg Intelligence economists shows the ECB is in for a long wait, at least until 2019, before it can start tightening policy.

The ECB's view is that as the economy expands, slack will decrease and start to push up wages and prices. The question is how long that takes.
Growth at least is on the right track. Euro-area industrial production jumped the most in six months in May, and IHS Markit's purchasing managers' index suggests that the economy recorded its fastest expansion in six years in the second quarter. Unemployment has dropped to an eight-year low, though it's still above 9 percent and the ECB says the level including people who want to work more hours is far higher.

Those kind of readings have persuaded some policy makers to echo Draghi's suggestion that there might be room to pare back stimulus without tightening financial conditions.
Executive Board member Benoit Coeure, who is responsible for market operations, has pointed to the ECB decision last December as a blueprint for future action. Policy makers then announced a reduction in the pace of monthly bond purchases to 60 billion euros ($69 billion) from 80 billion euros, starting in April, and extended them by nine months until the end of 2017. That shift was managed without much market disruption.
Governing Council member Francois Villeroy de Galhau, the head of the French central bank, said in a Bloomberg interview this month that the ECB will "adapt the intensity" of its stimulus to the economic situation. He indicated that a decision is only likely to come in the fall.
The ECB is already quietly working on its options. Its Frankfurt-based staff is examining scenarios for the future path of quantitative easing ahead of a decision in September or later, according to euro-area officials familiar with the matter.
The economists surveyed by Bloomberg predict the ECB will use its September meeting to announce a reduction in its bond-buying program, giving investors plenty of time to adjust. The rollback is seen starting in January and taking nine months, with future cuts announced one step at a time.

"Dealing with markets is like dealing with your boss: if you want to push an initiative, you have to make them think that the idea is theirs," said Louis Harreau, an ECB strategist at Credit Agricole CIB in Paris. "The ECB will have to make markets aware that tapering will occur in January without explicitly saying so, so that markets will slowly come to accept it and gradually adapt to it."
— With assistance by Carolynn Look, and Kristian Siedenburg
Before it's here, it's on the Bloomberg Terminal.
LEARN MORE