Decision-Day Guide: Focus on Bank of Japan's Inflation Outlook
By
Central bank widely expected to lower inflation forecasts

All 43 economists surveyed predict no change to policy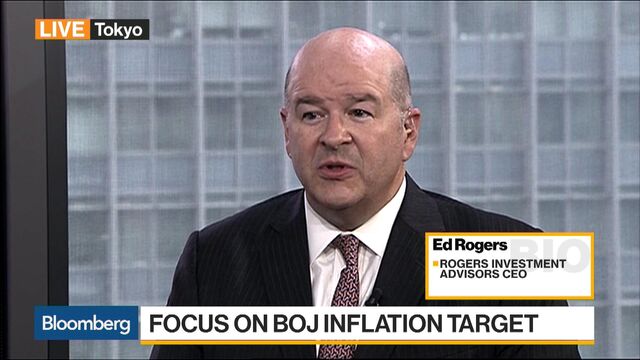 Start your day with what's moving markets in Asia. Sign up here to receive our newsletter.
Expecting no change to policy, investors will focus on the Bank of Japan's newest growth and inflation forecasts on Thursday, seeking clues to how long the BOJ might carry on with its unprecedented monetary stimulus.
The central bank faces questions about the sustainability of its easing program as other major central banks turn toward tightening. Its quarterly outlook report will provide a snapshot of its view of the future, including when it might reach its 2 percent inflation goal.
Few expect the BOJ to adjust its easing framework before Governor Haruhiko Kuroda's term ends in April. All 43 economists surveyed by Bloomberg predicted the BOJ would keep its policy framework unchanged at the two-day meeting.
The BOJ usually releases its policy statement and outlook report in the early afternoon in Tokyo. A press briefing by Kuroda is scheduled for 3:30 p.m. He will be speaking just hours before policy makers at the European Central Bank announce interest rates and stimulus settings.
Looking Ahead
It has become routine for the BOJ to lower its inflation forecasts, having done so during every update since October 2014. Economists are expecting more of the same this time. The nine-member policy board will publish updated median estimates of inflation and economic growth for the three fiscal years through March 2020. 
There is a chance the BOJ will change its prediction that inflation will reach its 2 percent target "around" the 2018 fiscal year. Some BOJ officials believe that the wording can be retained, while others are leaning toward a change to reflect current price weakness, according to people familiar with central bank's discussions.

Eventually, weak inflation will force the central bank to make that change, and to acknowledge the need to continue its stimulus for several more years, former BOJ executive director Hideo Hayakawa said in an interview.
Yoshiki Shinke, chief economist at Dai-ichi Life Research Institute, said the BOJ must at least lower its inflation forecast for this fiscal year from the current 1.4 percent, because meeting it would require that inflation tops 2 percent sometime during the rest of the year. Consumer prices excluding fresh food rose 0.4 percent in May.
The BOJ is seen likely to slightly raise its growth projections. Kuroda will probably point to the recent modest expansion and the tightest labor market in decades as signs of stronger inflation to come, while pledging to continue easing, said Maiko Noguchi, senior economist at Daiwa Securities Co. and a former BOJ official.
Read more: Japan's Economy Gains Momentum in Struggle to Escape Deflation
Other central banks' moves toward tightening have prompted growing questions about when and how the BOJ might exit its own easing program, with much of the focus on the impact on the government bond and equities markets.
Bond Yields
Rising global yields forced the BOJ to conduct its third fixed-rate bond-purchase operation on July 7 -- and its first in five months -- to defend its target for the 10-year yield, currently at around zero percent. The fixed rate was 0.11 percent, the same level as during its February operation, fueling speculation that it is the BOJ's threshold for intervention.
Bond traders would be keenly interested in any elaboration by Kuroda of the BOJ's thinking about how it would maintain its yield target in the face of rising global yields, or under what conditions it would raise the target. Investors are also looking for clues to whether the BOJ will change its official bond-buying guideline of 80 trillion yen annually, according to Yoshimasa Maruyama, chief market economist at SMBC Nikko Securities Inc. in Tokyo.
ETF Buying
There is also growing attention to the BOJ's purchases of exchange-traded funds. Some BOJ officials are increasingly concerned about the sustainability of that buying, people familiar with discussions at the central bank told Bloomberg this month. But there is no need for an immediate change, and chances of any shift at this week's policy meeting are low, they said.
The Financial Services Agency is keeping an eye on the BOJ's emergence as a large, passive owner of stocks at a time when financial regulators are focused on getting shareholders to play an active role in improving corporate governance, according to a senior FSA official.
Nobuyuki Hirano, the chairman of the Japanese Bankers Association and head of Mitsubishi UFJ Financial Group Inc., Japan's biggest bank, and Nobuyuki Nakahara, a mentor to Prime Minister Shinzo Abe, are among those who have expressed concerns about the ETF purchase program in the past month.
Kuroda said after the last policy meeting in June that the BOJ could "in theory" cut the ETF purchases before reaching its inflation target, but such a move would be "generally unthinkable."
Before it's here, it's on the Bloomberg Terminal.
LEARN MORE