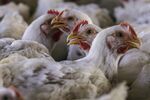 People generally avoid buying things they know are overpriced unless they're truly in a pinch (or have more money than they know what to do with).
So it seems as if credit investors are becoming pretty desperate (and have more money than they know what to do with). They know they're paying too much for corporate bonds but are buying them anyway.
About 60 percent of fund managers surveyed this month by Bank of America Corp. researchers said they thought investment-grade and high-yield corporate bonds were overvalued. And yet money keeps flowing into the debt. U.S. investment-grade bond funds have received an unprecedented $163.8 billion of flows this year. While flows into junk-bond funds have been choppier, yields on the notes have continued to drop.

This dissonance is emblematic of 2017's bond market: No one is happy with the high valuations, low yields and small margin for gains. But investors also seem to think their peers will keep buying the securities because few better options are out there. This is largely thanks to central bankers, who are trying to tiptoe away from unprecedented stimulus efforts but keep getting jammed up by disappointing inflation data.

Meanwhile, debt valuations have been high for years, but cash has burned a hole in the pockets of fund managers as these expensive securities continue to rally. As Bank of America researchers put it in a July 14 credit-market report, "Technicals trump valuations for another three months."
That said, betting that everyone else is as desperate as you are to buy something -- or more -- isn't a good long-term strategy, especially as the fundamental quality of corporate bonds deteriorates. 
So investors are building cash, with about 20 percent of investment-grade fund managers surveyed by Bank of America this month holding bigger-than-usual piles of extremely liquid securities, up from 14 percent in May. It makes sense for them to boost cash holdings even further because there's a rather unfortunate game of chicken going on. At some point, investors are going to realize that demand is drying up and they won't be sure how to value their securities. Prices will fall, in some cases sharply. 
This may not happen for months, but it's still good to have more cash, just in case. Investors are buying securities that they know are too expensive, and that's just a recipe for distress.
Before it's here, it's on the Bloomberg Terminal.
LEARN MORE