Another Participant at Trump Jr. Meeting Has Long Russia Ties
By , , and
Kaveladze was drawn into 2000 inquiry on Russian money in U.S.

Special Counsel Mueller seeking interview, man's lawyer says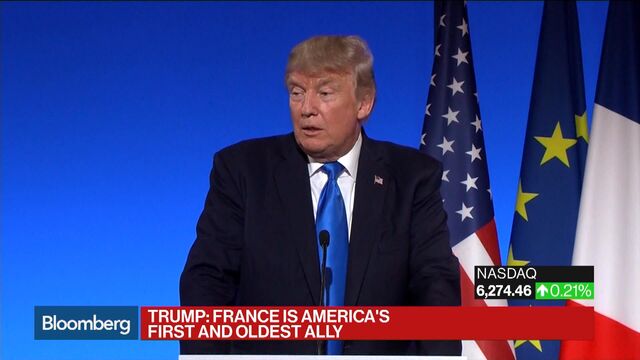 He once helped Russians and other Eastern Europeans move $1.4 billion through U.S. banks and, federal authorities claimed, set up more than 2,000 shell companies for anonymous Russian brokers.
And when congressional investigators then suggested money laundering might be involved, he issued a blunt retort in 2000 that rings familiar in Washington today: it was, he said at the time, a "Russian witch hunt."
Now Ike Kaveladze finds himself enmeshed in another inquiry involving Russian activity in the U.S.: On Tuesday, he was revealed to be the eighth person at a meeting at Trump Tower in June 2016 between Donald Trump Jr. and a Russian lawyer that was set up on the pretext of providing incriminating information about President Donald Trump's political opponent, Democrat Hillary Clinton.
Scott Balber, a lawyer who represents Kaveladze, said that a representative of Special Counsel Robert Mueller called him over the weekend to request an interview with his client. Mueller is overseeing a broad investigation into Russian meddling in the 2016 election and possible links to the Trump campaign.
The 52-year-old Kaveladze was sent by his boss, Aras Agalarov, to escort Russian lawyer Natalia Veselnitskaya to Fifth Avenue and act as her translator, according to Balber, who also represents the Agalarovs. However, Veselnitskaya already had a translator, who is regularly at her side at U.S. meetings.
Also at the meeting were Trump Jr.; his brother-in-law Jared Kushner, now a senior White House adviser; Trump's then-campaign chairman Paul Manafort; and lobbyist and former Soviet counterintelligence officer Rinat Akhmetshin.
Promise of Information
Another person at Trump Tower that day was Rob Goldstone, a publicist with connections to both Trump and Agalarov, who set up the meeting. According to emails released by Donald Trump Jr., Goldstone promised "information that would incriminate Hillary" that is "part of Russia and its government's support for Mr. Trump."
The president, who has called the Russia investigation a "witch hunt," said there was nothing unusual about a campaign being willing to take damaging information about a political opponent. Donald Trump Jr. has said nothing came of the 20-minute meeting and that it was mostly taken up by Veselnitskaya talking about sanctions imposed on Russians because of the Magnitsky Act.
Now the encounter has become a focal point for investigators looking into ties between the Trump campaign and Russia. Congressional investigators are seeking testimony from Trump Jr., Manafort and Kushner, the only one of the three who went on to take a White House position.
Donald Trump Jr.'s attorney, Alan Futerfas, didn't respond to multiple requests for comment. Representatives for Kushner and Manafort have declined to comment.
2000 Inquiry
Kaveladze's presence has restoked interest in the 2000 congressional inquiry. That nine-month probe found that banking activities aided by Kaveladze's Euro-American Corporate Services Inc. and International Business Creations Inc. raised questions about "whether the U.S. banks were used to launder money," the 2000 report by the Government Accountability Office said.
Kaveladze's actions were a prime example of a practice Congress has been trying to crack down on for years -- using shell corporations and bank accounts to allow foreigners to secretly move money into the U.S., said former Senator Carl Levin, who asked for the GAO report.
"Based on the example of Kaveladze, who was in a sense the poster child of this practice, and other examples we uncovered over the years, we've been trying for decades to end the hidden ownership of American corporations," Levin, a Michigan Democrat, said in a statement Tuesday.
No Charges
Balber said neither Kaveladze nor anyone else was charged as a result.
"I understand even the bank employees were never disciplined and furthermore not even an allegation that any of these accounts actually engaged in money laundering," he said. "Purely a compliance issue."
Kaveladze, who lives near Los Angeles, is a vice president at the Crocus Group, a real estate developer founded by Agalarov that has worked on shopping malls, hotels and restaurants in Russia. His personal website makes no mention of Euro-American or IBC. Before working with the Crocus Group, his biography notes he attended Moscow Academy of Finance and got an MBA from the University of New Haven in Connecticut.
At the Trump Tower meeting with Trump Jr., Kaveladze's lawyer said he didn't say much. "He didn't contribute," Balber said.
Before it's here, it's on the Bloomberg Terminal.
LEARN MORE