Akzo Nobel CEO Quits Due to Illness as Chemicals Breakup Looms
By
Ton Buechner replaced by specialties head Thierry Vanlancker

Paintmaker sticking to strategy for company split: chairman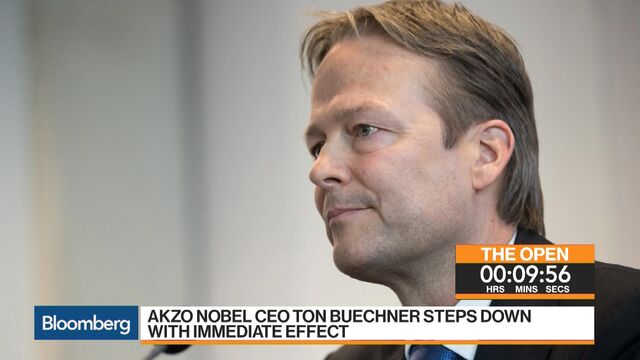 Akzo Nobel NV was forced into a surprise change in chief executive officer, adding to the upheaval engulfing the Dutch paintmaker as it splits in two in response to a failed takeover attempt by a U.S. rival.
Chief Executive Officer Ton Buechner resigned for unspecified health reasons, to be replaced with immediate effect by specialty chemicals head Thierry Vanlancker, the Amsterdam-based company said in a statement on Wednesday. The sudden switch comes as rival-turned-suitor PPG Industries Inc. could return with another bid later this year and U.S. hedge fund Elliott Management Corp. pursues a court battle to remove Chairman Antony Burgmans.

Buechner, who took a months-long leave of absence for a bout of fatigue shortly after taking the helm in 2012, will be replaced by 52-year-old Belgian national Vanlancker. In what represents a meteoric rise to the top job, the former DuPont Co. executive joined Akzo Nobel only last year after overseeing the spinoff of pigment maker Chemours Co. from the U.S. company.
Akzo Nobel shares rose 0.5 percent to 78.31 euros at 12:30 p.m. in Amsterdam, valuing the company at 20 billion euros ($23 billion).
The management change comes as a deadline looms on Akzo Nobel's pledge to hive off by April its specialty chemicals division, a plan put forward after PPG approached the company for a takeover earlier this year. Buechner, 52, and Burgmans's refusal to engage with PPG over its failed $29.5 billion offer angered some investors, with Elliott taking its push for talks to court in the Netherlands. Pittsburgh-based PPG pulled its offer on June 1, saying it was in its best interests "at this time." Under Dutch takeover law, it has to wait six months before making another move.
"Akzo's management is under massive pressure to deliver value creation," Baader Bank analyst Markus Mayer wrote in a note. The CEO change isn't likely to make any renewed PPG bid more successful, and shouldn't be taken as a sign that Akzo Nobel's supervisory board will be any less determined to fend off Elliott, he said. 
Speaking on a call with reporters, Vanlancker reaffirmed the company's plan to exit the specialty chemicals business, a split that it has said would generate more value for shareholders than a sale to PPG. As well as overseeing the breakup, either via a spinoff or disposal, he will also face Elliott, which earlier this month filed a second lawsuit in Dutch court aimed at removing Burgmans. The case is part of the U.S. fund's campaign to get Akzo Nobel and PPG to the negotiating table.
A spokesman for Elliott declined to comment on the CEO change.
Keeping Strategy
"The chemicals plan, and the separation that is ongoing is in full motion, and there is no change to that at all," Vanlancker said. There is no reason why Buechner's resignation would "cause any delay or hiccups in that process."
A chemical engineer by training, the executive worked for DuPont and Chemours for almost three decades, leading operations in polymers, performance coatings and chemicals in Switzerland, the U.S., Germany, France and Belgium, according to the Dutch maker of Dulux paint and chlorine.
"He has a perfect background to take over the helm at this company," Burgmans, 70, said on the call. "Will it change the strategy? No."
The Dutch company didn't disclose the nature of Buechner's decline in health, which Burgmans said came on in the last few days and is unrelated to the company's strategy. "This is a very recent development. This is not from weeks ago, but from days ago," Burgmans said, adding Buechner decided to make a preemptive move to stand down to avoid any deterioration.
Pressure
"He felt that if he would continue to subject himself to the pressure of his office that would have adverse effects for his health," said Burgmans, who is on the front lines of the battle with Elliott and is scheduled to leave his position next year. "Whether this would have led to the same situation as in 2012, I don't know. I am not a doctor, and I don't speculate about his medical details. I think, personally, it's not very respectful if we go into details of medical issues."
Buechner has had health problems in the past. He took a leave of absence in September 2012, less than six months after taking the helm, because of fatigue. He returned after about three months. 
Buechner can be credited with taming an unwieldy, sprawling Akzo Nobel that had failed to streamline businesses after its $17 billion acquisition of Imperial Chemical Industries in early 2008. With margins lagging behind leading coating companies such as Sherwin-Williams Co., the Dutchman merged plants and undertook a forensic analysis of costs to raise profitability in line with industry standards. After years of restructuring and before PPG burst on the scene, Buechner had switched to a more growth-led focus.
One of his first moves was the sale of Akzo Nobel's U.S. decorative paint business to PPG for about $1 billion. The U.S. company immediately boosted results at the unit, which included the Glidden paint brand, getting a taste for the opportunity and returns of acquiring the whole business.
Difficult Decision
"Ton's departure will be seen by many as the loss of a strong operator who delivered a substantial recovery in margin and cash flow generation, enabling the business to deleverage," said Andrew Benson, an analyst at Citigroup.
"For me this was an extraordinarily difficult decision to make but my focus must now be on my health," Buechner said in Akzo Nobel's statement. Buechner didn't join a conference call discussing his resignation, leaving Burgmans to specify that unlike his last medical leave, the former CEO won't be returning.
— With assistance by Thomas Mulier, and Andrew Marc Noel
Before it's here, it's on the Bloomberg Terminal.
LEARN MORE