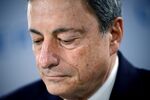 Mario Draghi paved the way to reduce the emergency support the European Central Bank has given the region by invoking "reflationary forces" in his Sintra speech last month.

At Thursday's ECB meeting, that forward guidance should be subtly reinforced. That way, any cuts to quantitative easing at the September meeting will come as expected, and not as a shock to the bond market. Acknowledging that tapering was discussed is this week's step; September can be the time for action.
The market knows that the ECB is close to bumping up against the ceiling which stops it from owning more than 33 percent of any particular bond or bonds issued by an individual country. That means the ECB needs to explain clearly how it will scale back its purchases without causing a taper tantrum like that we saw in the U.S.

With the summer lull seeing a reduction in issuance there is a supportive backdrop to smooth the process. That should allow longer-dated yields to consolidate their recent rise -- without any rout ensuing. But a modest steepening of the curve should follow as the ECB's presence slowly diminishes.
Draghi has made clear that ever more stimulus is no longer needed by stating that the European economy is on a stable recovery path. But he needs to map out carefully the change in the direction of travel.
His appearance at the Kansas Fed symposium at Jackson Hole in late August could provide the perfect opportunity for him to lay out the academic framework for his forward guidance.
The last ECB meeting saw the easing bias on rates moved back to neutral. It's expected to stay there until the end of 2018 at least. Step two is to lay out the procedures for scaling back the current 60 billion euros a month of bond purchases.

Due to the lack of liquidity, the amount of German bunds purchased has already dropped (and purchases of their French and Italian counterparts increased) as the 33 percent issue and issuer limits are fast approaching.
This rule has already sharply restricted buying of Irish and Portuguese government bonds -- but by early 2018 the same will be the case for Germany and other core countries. This could be as soon as January according to Citi analysts, though this could be extended by widening the scope to German agency debt.
It would be prudent, then, to engineer the ECB's actions in a manner that lets it avoid running out of road. Draghi has taken the first steps on what will be described as a very gradual process. That message should be backed up this Thursday.
Before it's here, it's on the Bloomberg Terminal.
LEARN MORE