Economics
Swiss Artisans Automate to Survive
Heritage plus innovation helps a fabric embroiderer make it in a high-wage nation.
By and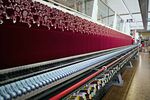 Producing the intricate, lacy embroidery used in lingerie, evening dresses, and bridal gowns is the kind of detailed labor that's been increasingly farmed out to Asia. Emanuel Forster makes it in Switzerland.
Forster is co-chief executive officer of Forster Rohner AG, a 113-year-old company in the eastern city of St. Gallen that produces fabric that can cost thousands of dollars per yard—including material he says was used in the dress British socialite Pippa Middleton wore at her wedding in May. Forster Rohner is among dozens of Swiss textile producers that have managed to survive, and even thrive, despite wages that are among the world's highest and a currency that's risen 50 percent against the euro since 2008. "It's clear that we don't think the strong franc is great," says Forster, a great-grandson of the company's founder. "But our creative brainpower really comes from our site in Switzerland."

The key is combining the country's history of quality workmanship with its tradition of innovation: automating where it makes sense and doing only the most intricate pieces by hand—while exporting lower-value work to less expensive locales. And, at least for Forster Rohner, long-standing relationships with top designers keep the orders rolling in. The company employs 250 people in St. Gallen—where unemployment is just 2.5 percent—and has 640 workers in factories in China and Romania crafting material for lower-cost clothing.
Although their number has fallen in recent years, about 40 companies with 50-plus employees each still produce textiles or clothing in Switzerland. Akris makes dresses worn by Princess Charlene of Monaco; Zimmerli Textil AG creates lingerie that was featured in the movie Fifty Shades of Grey; Lantal manufactures seat covers and curtains for airplanes; and Schoeller Textil AG weaves advanced fabrics for sportswear and protective gear for firefighters and soldiers. "Specialization and the ability to draw on the right personnel allow companies to offset the high prices and high wages," says Cornelia Luchsinger, an economist at Zuercher Kantonalbank in Zurich.

Forster Rohner's workshop in St. Gallen echoes with the hammering sound of thousands of needles stitching embroidery destined for the likes of Dior, Valentino, and French lingerie maker Chantelle. The 11 machines all have hundreds of needles, and the biggest can embroider pieces as long as 15 meters (49 feet). Each is staffed by two people who program the desired patterns and step in to fix problems such as broken needles or thread.
In the next room, about a dozen women sit at tables prepping material for the machines and examining the finished products, delicately fixing any flaws, while a few specialists sew the most-detailed pieces by hand. A couple of doors down there's an archive of a half-million sketches and samples stacked floor to ceiling in boxes, folders, and books with yellowed pages, some dating to the 1800s. Drawings and cloth are laid out on a large table where designers study historic patterns. Upstairs, researchers develop products such as fabrics embedded with pressure sensors, tiny lights, or filaments for heating. "What makes us special is the design," Forster says.
Despite its A-list clients and advanced technology, Switzerland's textile sector remains troubled. In 2016 revenue from material dropped 9 percent, to 573 million francs ($594 million), while makers of finished clothing suffered a decline of 8 percent, to 335 million francs. Since 2000 the value of the sector's production has fallen by a third. Nonetheless, three-quarters of the members of Swiss Textiles, an industry group, said in March that business was good or satisfactory—the first positive balance in five years—as companies across the economy have cut costs, increased production abroad, and improved technology. "Will there still be a Swiss textile industry in the future?" Andreas Sallmann, owner of underwear producer ISA Sallmann AG, said in a speech to Swiss Textiles members this spring. "Yes. But it will be different." The strong franc will require a "focus on highly modern and highly technical" niche applications.

That would include the fabric for the dress Michelle Obama wore to her husband's 2009 inauguration as well as that donned by Middleton, the sister of the Duchess of Cambridge, at her wedding to financier James Matthews—Britain's high-society event of the year. Forster declined to comment on the material's price, but U.K. newspapers have pegged it at £40,000 ($52,000). "It is encouraging to produce something unique in Switzerland that you can't find elsewhere," Forster says. "You can't have China without St. Gallen, and vice versa. It's a system in which each part has its own function. And the function of Switzerland is clear: driving innovation and design."
BOTTOM LINE -
Forster Rohner has survived by combining quality workmanship with innovation, automating most production while exporting lower-value work to less expensive locales.
Before it's here, it's on the Bloomberg Terminal.
LEARN MORE