Shkreli Witness Had Front-Row Seat to Fund Train Wrecks
By , , and
Trader worked at Galleon before moving to Shkreli's firm

Pierotti tells jury about insider trading at Galleon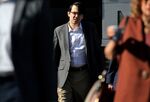 Tim Pierotti's had a front-row seat for some of the biggest hedge fund train wrecks on Wall Street in a decade.
He worked for Martin Shkreli, who is on trial for fraud, after an earlier stint at Galleon Group LLC, where he said he watched parts of the biggest insider-trading scam in a generation unfold. Galleon's co-founder Raj Rajaratnam was convicted in 2011 of masterminding the plot.
Pierotti, 46, testified Tuesday about what prosecutors say was a ploy by Shkreli to secretly control freely traded shares of Retrophin Inc., a drug maker the pharmaceutical executive founded and whose board later ousted him. Before Pierotti described that plot he told the jury he witnessed Rajaratnam trading on inside information.
Pierotti recalled he was concerned about a trade at Galleon that involved JM Smucker Co. because it was based on inside information.
"I was asked by the founder of the fund, Raj Rajaratnam, 'Are you with me?' And I said 'yes,"' Pierotti told Shkreli's jury. "He said he had inside information that was given to him by a board member of Procter & Gamble which was doing business with Smuckers."
Pierotti left Galleon in 2008. He said he eventually went to federal prosecutors in Manhattan and the U.S. Securities and Exchange Commission about what he witnessed at the fund.
"I basically told them everything I knew, which is how I was involved, what occurred, why it occurred and the circumstances," he said. "I told them about the insider trading I saw at Galleon."
He said he described how he ended up in a room with Rajaratnam and that Rajat Gupta, a former director at Goldman Sachs Group Inc. and Procter & Gamble passed inside information to Rajaratnam. Gupta served 30 months in prison after being convicted of passing the information to Rajaratnam.
More on the Shkreli trial soap opera
Pierotti agreed to testify against Gupta but wasn't called as a witness. He said he got a non-prosecution agreement from the government in 2012.
Rajaratnam is serving an 11-year sentence in the Federal Medical Center Devens in Ayers, Massachusetts. He's due to be released July 4, 2021.
Shkreli, 34, is accused of operating Retrophin and his hedge funds as Ponzi schemes. Prosecutors say after his funds imploded in 2011, Shkreli took investors' money without their permission to start Retrophin, and later used $11 million from the drug company without shareholder approval to repay the funds' investors. He faces as long as 20 years in prison if convicted.
Pierotti testified Shkreli sold him 350,000 shares of newly public Retrophin for $400. It was a way for Shkreli to keep control of the company through other people, according to the government.
Shkreli Threats
Pierotti said he sold some of the shares in December 2012 on the open market. Shkreli demanded the return of the remaining shares and threatened him and his family, Pierotti said.
Pierotti said he later sold the remaining shares of Retrophin for about $1.5 million, but he told the jury he made $500,000 because the rest of the money was used to pay legal costs and other fees to defend himself against Shkreli.
Another witness, Lee Yaffe, took the stand after Pierotti, testifying that he first met Shkreli a little more than a decade ago and was so impressed that he convinced his father to invest $100,000 in Shkreli's first hedge fund, Elea Capital.
"He knew a lot of people on the street," said Yaffe, 52. "He was very articulate and knowledgeable."
After Shkreli told him he lost all his money, Yaffe said he spent about five years trying to get his father's investment back. He said eventually he made a deal with Retrophin to provide consulting services for $200,000 and 15,000 shares of the company. He said he later sold the shares for $155,000.
Chasing Martin
"I was chasing Martin for money," Yaffe said. "He said that if he was successful at some point down the road he could make my dad whole on his investment. I had confidence in him and I believed in him."
Yaffe testified that he never provided any consulting services to Retrophin and that he considered the agreement a way for Shkreli to repay his father's investment. He said he initially lied to FBI agents about his role at the company but later admitted the pact was a sham. He agreed to cooperate with the government to avoid prosecution.
"I panicked a little bit," Yaffe said. "I really got caught off guard. I really wanted to get paid on the investment and didn't want to pay the money back. I also wanted to protect Martin. I had a long relationship with him and he tried to pay me back. The way he went about it was not right."
As part of his non-prosecution agreement, Yaffe paid back the $200,000 he got from the company and the $155,000 he made from the sale of the shares.
"I didn't provide any consulting services and therefore that money belonged to Retrophin shareholders and not to me," Yaffe said.
The case is U.S. v. Shkreli, 15-cr-0637, U.S. District Court, Eastern District of New York (Brooklyn).
Before it's here, it's on the Bloomberg Terminal.
LEARN MORE