Risk of Muted Policy Debate as BOJ Loses Two Vocal Dissenters
By and
Board members Kiuchi, Sato forced vigorous debate over risks

Replacements seen unlikely to challenge Kuroda, further easing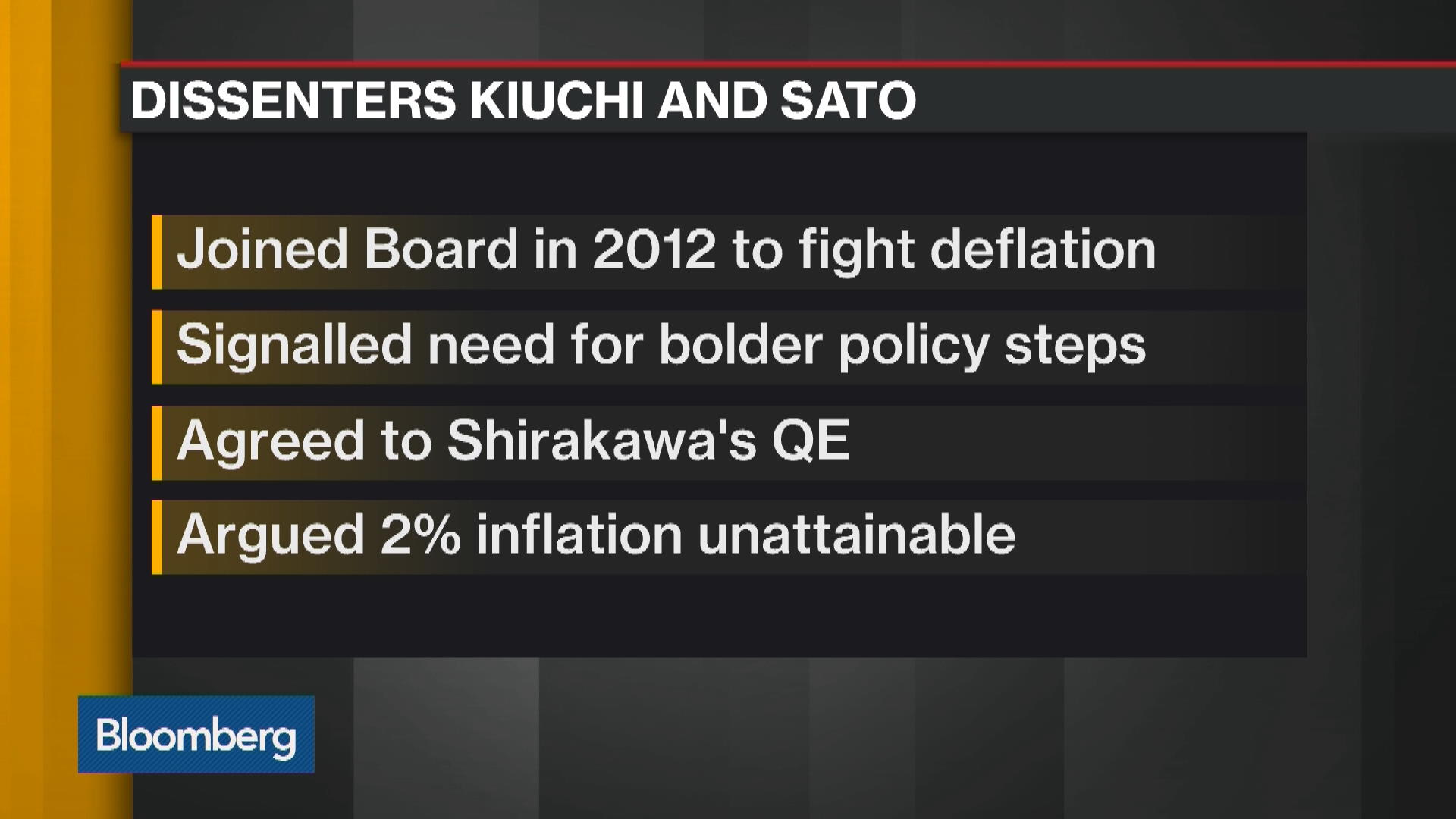 Bank of Japan board members Takahide Kiuchi and Takehiro Sato were champions of more aggressive action against deflation when they came aboard in mid-2012. They will leave after this week's meeting as the only consistent voices of opposition to the radical stimulus policies of Governor Haruhiko Kuroda.
While Kiuchi and Sato always remained in the minority as dissenters, they played important roles by forcing vigorous board debate over the risks posed by Kuroda's policies, and their departures could mean the end of such discussions, BOJ watchers say. They will be replaced by two people widely seen as unlikely to challenge Kuroda or oppose pushing policy further. And the end of Kuroda's own term in April next year could bring change that makes diverse thinking more important than ever.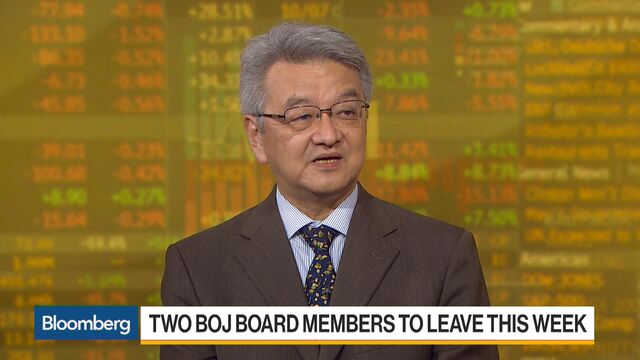 "Their opinions and dissent added a dimension to the board's discussions, and it was a relief to market participants to know the BOJ was discussing the costs of its stimulus," said Masamichi Adachi, a senior economist at JPMorgan Chase & Co. and a former BOJ official.
Read more: BOJ ETF Buying Is Said to Raise Concern Among Some Officials
Japan was still struggling to shake off one of the world's sharpest recessions in the wake of the global financial crisis when Sato and Kiuchi, who were economists with Morgan Stanley MUFG Securities Co. and Nomura Securities Co., respectively, joined the board in July 2012. Prices were falling and the yen was trading at around 78 against the dollar, near its strongest level ever.

Both immediately signaled a willingness to take bolder action with monetary policy. Kiuchi said "a new form of monetary easing" was needed because it was unclear whether the BOJ could hit its 1 percent inflation target. Sato said buying foreign bonds could be an option. The BOJ added stimulus three times in the months that followed, and by October both were arguing for a stronger commitment to the BOJ's inflation target.
Things changed after the election of Prime Minister Shinzo Abe in December 2012. Sato and Kiuchi consented to the open-ended asset buying proposed by BOJ Governor Masaaki Shirakawa, but objected to the adoption of a 2 percent inflation goal, saying it was unrealistic for Japan's economy.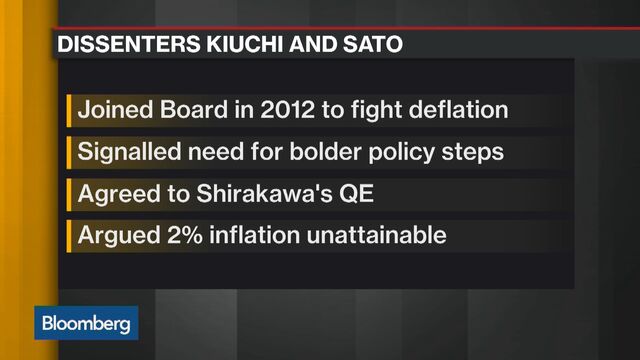 Focus on Risks
Kiuchi and Sato also voted for the market-roiling quantitative easing Kuroda launched at his first meeting in April 2013. But they dissented on every major policy decision beginning with the expansion of asset buying in October 2014. Last year that included the introduction of negative interest rates, increased buying of exchange-traded funds and yield curve control.
"What Kuroda did was too much for them to accept even though they saw the need to do more when they came in," Izuru Kato, president of Totan Research Co., a brokerage-linked think tank in Tokyo. "So they had to serve as backstops against the radical easing."
Kiuchi argued that the benefits of Kuroda's policies didn't justify their costs, and would fade the longer it took to hit the BOJ's price goal. Sato stressed the need for policy sustainability, saying the 2 percent inflation target should be a medium- to long-term goal.
New Faces
The two will be replaced by banker Hitoshi Suzuki, of the Bank of Tokyo-Mitsubishi UFJ, and economist Goshi Kataoka, of Mitsubishi UFJ Research and Consulting.
"The choice of board members is apparently just bringing together those who support monetary easing and ignore its costs," Miyako Suda, a leading opponent of monetary easing when she sat on the board from 2001 to 2011, said last month. "That's not making good use of the policy board" and could lead to a big mistake, she said.
Beyond focusing on the risks involved in policy decisions, it isn't clear exactly what Kiuchi and Sato achieved on the board. Last month, for example, Kiuchi proposed raising the short-term policy rate to 0.1 percent from -0.1 percent and Sato said buying 6 trillion yen of ETFs annually was "excessive." There was virtually no chance of them moving policy on either of these points.
Read more: The BOJ's Inflation Target Is Unattainable, Most Economists Say
JPMorgan's Adachi said it's not certain that following their suggestions would have served the BOJ well, though their opinions on the side-effects of stimulus won sympathy among market participants.
"Their calls for sustainability might have contributed some to the shift to yield curve control last year but I think that largely came from concerns among Kuroda and those in the leadership role," he said.
Still, it's important to have strong debate among board members, Adachi said.
"It's just nonsense that everyone agrees and everyone is free from any concern when the BOJ is implementing such radical measures," he said.
Before it's here, it's on the Bloomberg Terminal.
LEARN MORE